The abode of Lord Krishna is located on the river bank Yamuna, just one hour's drive from Agra. Magnificent shrines honoring different facets of his life are scattered throughout the entire landscape. His laughter, pranks, and beautiful flute may still be heard in the twin cities of Mathura and Vrindavan, where he was born and raised.
A portion of Mathura stretches throughout the Yamuna River and is lined with 25 ghats. It is best to visit these sites early in the morning when you can see locals and visitors taking a holy bath and early in the morning (shortly after sunset) when numerous diyas are sailed during the everyday aarti.
Must Read: This year, visit Best Places in Uttar Pradesh
The most well-known tourist destination in Mathura is Shri Krishna Janma bhoomi, which is thought to be the precise location of Lord Krishna's birth and where visitors can today see the jail where he was born.
What is the Best Time to Visit Mathura and Vrindavan?
The best season to visit Mathura is from October to March since the weather is comfortable and cool for touring. The optimal time to visit Mathura would be during Krishna Janmashtami (August/September) and Holi to take in the finest of the cultural scene and to feel the presence of Lord Krishna (March).
How to Reach Mathura from Delhi?
● Delhi to Mathura Road Distance is 183 km
● Delhi to Mathura Aerial Distance is 138 km
● Delhi to Mathura Travel Time is approximately 2 hours 58 mins.
Approximately it will take 04:00 hours to reach Delhi to Mathura by bus.
Places to Visit in Mathura
(1) Krishna Janmabhoomi Temple
The sacred region of Mathura, Uttar Pradesh, is home to the Shri Krishna Janmasthan Temple. It is constructed around the cell in which Vasudeva and Mata Devaki, the parents of Lord Krishna, were held captive by his demonic uncle Kansa.
At the time of holidays like Janmashtami, Basant Panchami, Holi, and Deepavali, which are celebrated with great fervour, a trip to the Krishna Janmasthan Temple become much more pleasant.
The temple is situated in Mathura, close to Janam Bhumi and Deeg Gate Chauraha. It is conveniently accessible by rickshaw or taxi because it is located in the city's center.
During Summer- from April to November
5:00 AM to 12:00 PM, 4:00 PM to 9:30 PM
Garbha Griha Darshan: 5:00 AM to 9:30 PM
During Winter– from November to April
5:30 AM to 12:00 PM, 3:00 PM to 8:30 PM
Garbha Griha Darshan: 5:30 AM to 8:30 PM
(2) Govardhan Hill
The Giri Raj, also known as Govardhan Hill, is 22 kilometers from Vrindavan. As per Lord Krishna, Govardhan Parvat is not distinct from him, according to the Holy Bhagwat Gita. As a result, all his followers revere his idol in the same way that they revere the hill's pristine rocks.
As a result, this hill is revered as sacred. It is walked 23 kilometers around in adoration by worshipers at Govardhan Puja on Guru Purnima.
Mathura Junction is the closest railway station, and numerous buses and auto rickshaws run to Govardhan Hill from there.
Timing: 7:00 AM to 7:00 PM
(3) Dwarkadhish Temple
One of the grandest temples in Mathura, the Dwarkadhish Temple, is well-known throughout the nation for its beautiful architecture and artwork. The temple is devoted to Lord Dwarkadheesh, also known as Dwarkanath, a form of Lord Krishna represented by an idol made of black marble.
The shrine and its surrounds, within the boundaries of the city's sacred gate and close to the River Yamuna's ghats, are a center for many intriguing activities. Every day, thousands of worshippers come here to offer their homage.
About 3.5 kilometers separate Mathura Junction Railway Station from the shrine. It is simple to take an auto or cycle rickshaw to get to the temple.
(4) Vishram Ghat
On the banks of the Yamuna River, about 4.5 kilometers from Mathura Junction, is the respected and holy bathing ghat known as Vishram Ghat. It serves as the hub for 25 other ghats and is the primary ghat in Mathura.
Visitors to Vishram Ghat come from all over the nation to take holy baths and complete the traditional parikrama that begins and concludes here.
After slaying the terrible demon king Kansa, Lord Krishna took a break here, earning the place Vishram, which means rest. This is why visiting Vishram Ghat, and the temples scattered around it is essential to a journey to Mathura.
About 4 kilometers separate from Mathura Junction from Vishram Ghat. One can get directly to the ghat from the station using public transportation like auto-rickshaws, buses, or taxis. The journey to the ghat takes roughly ten minutes.
(5) Rangji Temple
In honor of Lord Sri Goda Ranagamannar, a South Indian Vaishnava Saint, and Lord Ranganatha, a manifestation of Lord Krishna, the Rangji Temple is located on the Vrindavan-Mathura Marg.
The temple's centerpiece is an image of Krishna, who is dressed as a bridegroom holding Goda (Andal) as his bride.
A 50-foot-tall gold-plated dwajasthambam (pillar) and a water tank are features of the unusual temple's interior construction, which is done in the South-Indian architectural style. In contrast, the outside is done in the North-Indian temple architecture. One of the 108 Divya Desams of the Vaishnavas is Rangji Mandir.
Timings : Summer: 5:30 AM – 11:00 AM, 4:00 PM – 9:00 PM
Winter: 5:30 AM – 12:00 PM, 3:00 PM – 9:00 PM
(6) Radha Raman Temple
It is devoted to Lord Krishna, regarded as Radha Raman, or someone who offers Radha pleasure. The temple is renowned for housing Radharani, the personality deity from Shaligram Shila, with the traditional Shaligram shrine of Krishna.
The Radha Rani goddess is not present in the temple. Only a crown is retained by Krishna to indicate her presence.
Among the other options, renting a private automobile for the day is the most convenient and expensive. The Radha Raman Temple is the ideal place for visitors to Vrindavan to begin their temple-hopping because it is only 2 kilometers from the railway station.
In Vrindavan, Lokanath Goswami built the Radha Gokulananda Temple, which has statues of Radha Vinoda, Radha Gokulananda, and Lord Chaitanya. It is situated between Keshi Ghat and Radha Raman Temple.
This temple didn't originally contain a Radharani Deity. Radha's statue was put close to Radha-Vinoda by Jahnava Devi, who created it in Jagannath Puri. The original Radha-Vinoda goddess is being worshipped in Jaipur.
The temple is situated in Vrindavan, Uttar Pradesh, at Keshi Ghat. You can easily rent a car or cab to travel via Parikrama Marg from Keshi Ghat to get here.
Some of the other enchanting places to visit in Mathura are,
Gokulananda Temple
Kans Qila
Mirabai Temple
Nanda Bhavan
Har Devji Temple
Radha Damodar Temple
Birla Temple
Elephant Conservation center
Sri Radhavallabh Vrindavan Temple
What is the Distance between Mathura and Vrindavan? How much time does it take to Reach?
8 KM (kilometers) and 300 meters separate Mathura from Vrindavan in a direct line. The distance in miles between Mathura and Vrindavan is 5.2 miles. Since this is a straight-line route, the actual travel time between Mathura and Vrindavan may often be higher or fluctuate due to the road's curvature.
The distance from Mathura to Vrindavan, including travel time, is 15 KM and 435 meters. The distance that separates these two travel points in miles is 9.6 miles.
Indian visitors arriving by rail or road can catch a train up to Mathura and then board any shared vehicle or hire a small vehicle to travel to Vrindavan as soon as they exit the railway station.
Ways to Reach From Mathura to Vrindavan
By Air
The closest airport is Delhi's Air Indira Gandhi International Airport, which is 150 kilometers distant. It would take roughly three and a half hours to go to Vrindavan by cab.
By train
There is a train station in Vrindavan, but not all trains stop there. The closest significant railroad station is located 14 kilometers distant in Mathura. From Mathura to Vrindavan, taxis, buses, and rented auto rickshaws are all options. Mathura and Vrindavan are connected by local suburban trains.
By road
There is a railroad station in Vrindavan. However, not all trains stop there. The closest significant railroad station is located 14 kilometers distant in Mathura. From Mathura to Vrindavan, taxis, buses, and rented auto rickshaws are all options. Mathura and Vrindavan are connected by local suburban trains.
Places to Visit in Vrindavan
Here, I am telling you the most visited and elusive temples in Vrindavan,
(1) Govind Dev Temple
In Vrindavan, the renowned Govind Dev temple was built in the latter half of the 16th century.
That is also largely attributable to its striking architecture. Govind, another name for Lord Krishna, is the temple's presiding deity. This well-known Hindu temple in Vrindavan is one of the best and most revered in the area.
Winter is the busiest travel season in the city, and it's also the greatest time to see Govind Dev Temple and all the other tourist destinations in Vrindavan. The winter season in Vrindavan begins in October and is characterized by a mild, peaceful, and pleasant climate. February marks the end of the season.
Location Address Raman Reiti, Vrindavan Khadar, Uttar
Location: Vrindavan Khadar, Raman Reiti, Uttar Pradesh 281121, India.
Govind Dev Temple is open every day of the week, just like the majority of Vrindavan's temples. The location is accessible every day from sunrise until sunset.
(2) Radha Raman Temple
The temple of Radha Raman is devoted to Lord Krishna, who is regarded as Radha Raman, or someone who offers Radha pleasure. The Shaligram deity of Radharani, the self-manifested god from Shaligram Shila who has a mysterious smile on his face, is also said to be present in the temple with the original Shaligram deity of Krishna. The samadhi of Gopal Bhatta is also part of the Radha Raman temple complex. It is situated exactly adjacent to Radha Raman's place of appearance.
Over the other options, renting a private automobile for the day is the most convenient but also the most expensive. The distance between the temple and the Vrindavan train station is only two kilometers. The Radha Raman Temple is situated in Rajpur Bangar's Chamunda Colony in Vrindavan.
Timings: 8:00 AM – 12:30 PM and 6:00 PM – 8:00 PM
Mangla Aarti: 4:00 AM in winter and 5:30 AM in summer
(3) Bankey Bihari Temple
The Banke Bihari temple, a holy place of worship dedicated to Lord Krishna, is one of Vrindavan's most impressive tourist attractions.
The temple also shows several stages of Lord Krishna's life, from his early years when he was known as Named Gopal through his latter years. Here, poojas, celebrations, and many spiritual events are held throughout the year. The Banke Bihari Temple, an imperial building, is constantly crowded with visitors and pilgrims.
Place: Banke Bihari Temple, Goda Vihar, Vrindavan, Uttar Pradesh 281121
No entry fee is required.
7:45 AM to 12:00 PM, 5:30 AM, and 9:30 PM are the times. 8:45 a.m. to 1:00 p.m. (summer). Between 4:30 PM and 8:30 AM. (Winter)
Optimal Season: October through March
(4) Iskcon Temple /Shri Krishna Balram Mandir/ Angrejo Ka Mandir
ISKCON temple is now the top tourist destination in the area, drawing tourists from nearby Delhi and worldwide. The daily Aarti and Bhagavad Geeta lessons here enthrall visitors to the beautiful shrine.
On the other hand, Lord Krishna-Balaram is the temple's presiding deity. On the temple's main slab are two icons representing the brothers Krishna and Balarama.
You can go to Vrindavan from Agra through the Yamuna expressway, located 75.7 kilometers from Delhi.
Rail: Vrindavan is 11.9 kilometers away and may be reached by deboarding at Mathura station. Outside the station, taxis and buses are readily accessible.
Road: Regular buses and some upscale buses travel to Vrindavan from Delhi and Noida.
Summer: 4:30 AM – 12:45 PM and 4:30 PM – 8:00 PM. Winter: 4:30 AM – 1:00 PM and 4:00 PM – 8:15 PM
(4) Nidhivan
The hallowed birthplace of Krishna's temple, Nidhivan, in Vrindavan, has a mystery or supernatural about it. Lord Krishna is rumored to make nightly visits to Nidhivan. Also, there is a rumor that he plays Ras Leela every night.
After 7 PM, neither animals nor birds are seen because they are believed to abscond from the region. Additionally, Nidhivan has a unique environment.
The Kheria Airport in Agra, which is around 55 kilometers from Vrindavan, is the closest. The primary rail hub that links Vrindavan to every other region of India is Mathura Railway Junction. Another option is to take a bus from one of the large cities in Uttar Pradesh to Vrindavan.
Winter months from October to March are the greatest time to visit Vrindavan since they are fantastic for touring and a beautiful time to see the Yamuna River.
(5) Prem Mandir
This impressive holy site, known as the "Temple of God's Love," is devoted to Radha Krishna and Sita Ram. This recently built temple, the most magnificent in the Brij region, is full of worshippers during the Aarti.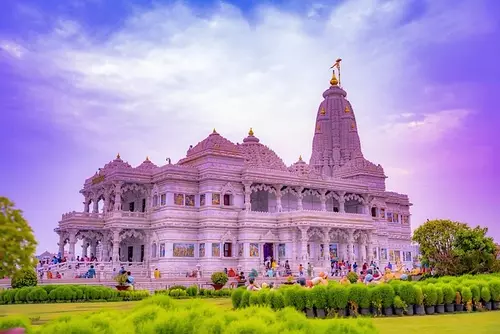 This temple is renowned for its exquisite architectural design and was constructed of white marble. The main temple is covered in statues of Shri Krishna and his devotees, depicting significant events in the Lord's life.
Air: Vrindavan is located 80 kilometers from the closest airport, Agra. To go to the Prem Mandir, a taxi can be arranged from the airport.
Rail: The temple is located 8 kilometers from the closest rail junction in Mathura.
Timings: 8:30 AM to 12 Noon
4:30 PM to 8:30 PM
(6) Radha Kund
Radha Kund, one of the two most immaculate kunds (ponds), is situated about 3 km northeast of Govardhan Hill. It is said that Lord Krishna himself built this pond. At midnight on the eighth day of the dark moon (Krishna Ashtami) in the Hindu month of Kartik, Radha Kund and Shyama Kund emerged (October – November). As a result, hundreds of pilgrims visit this popular tourist destination in Govardhan on this holy day to dip themselves in Radha Kund's sacred water.
Location: Mathura, Uttar Pradesh, India, Govardhan, Mansi Ganga Lake.
Timings for Opening and Closing
Every day of the year, Radha Kund is open for visitors, and it is open from 6:00 AM to 6:00 PM.
Winter is the ideal time to visit Radha Kund. Travelers may enjoy their visit to the fullest extent thanks to the cool and pleasant weather. The month of March marks the end of the season.
Some other enchanting places to visit in Vrindavan are:-
Pagal Baba Temple
Sri Ranganatha Temple
Goswami Temple
Must Visit these Places in Mathura and Vrindavan in 2 days
Krishna Janmabhoomi Temple, Mathura
Govardhan Hill, Mathura
Dwarkadhish Temple, Mathura
Kans Qila, Mathura
Nanda Bhavan, Mathura
Bankey Bihari Temple, Vrindavan
Nidhivan, Vrindavan
Prem Mandir, Vrindavan
Radha Kund, Vrindavan
Prem Mandir, Vrindavan
Iskcon Temple, Vrindavan
Goswami Temple, Vrindavan
My Words
These holy sites are frequented by a large number of followers looking for the Lord's blessings. The two locations in Uttar Pradesh that attract the most followers and mythology fans are Mathura, where it is thought that the Lord was born in prison, and Vrindavan, where he was raised.
When combined, Vrindavan and Mathura provide worshippers of Lord Krishna and tourists eager to experience the region's vibrant culture with the ideal vacation option.
People Also Ask For
1. What are the most famous foods in Mathura and Vrindavan?
 Lassi, Malpua, Rabri, Kachori, Samosa, Peda, and Makhan-mishri are famous foods there.
2. What is the Cost of visiting Mathura and Vrindavan for a 2 Days trip?
The 2 Day pilgrimage tour package through Mathura to Vrindavan can be avail at Rs. 1499.
3. What is the best thing about Mathura?
The ancient Hindu god Lord Krishna, who is thought to be an avatar of Lord Vishnu, was born at Mathura, which has made it famous for this connection.
In addition to being regarded as divinity in the Hindu religion, Hindus also view Krishna as a real-life hero and fighter.