During British Raj, Darjeeling emerged as today's summer capital and is now one of the most well-liked hilly resorts. This picturesque hill town in West Bengal is ideal for a blissful honeymoon. 
Located at 2,050 meters above sea level and surrounded by miles of tea estates, Darjeeling gives a pleasant temperature to revive and cherish all year.
Must Read: Amazing Island for Lakshadweep
At more than 86 distinct tea estates in Darjeeling, the famed "Darjeeling Tea" is produced. I visited the tea estate and enjoyed a cup of microbrew chai. I descended into the plantations and picked some tea leaves. It was so relishing.
What is the Best Time to Visit Darjeeling?
The best months to visit Darjeeling are April through June because of the pleasant weather. Nevertheless, I decided to go there in the winter, from October to December.
Must Read: Visit these 10 Places in West Bengal
Rain showers are nice in July and August. Due to severe rains, I've noticed many roadblocks in the hill station, making it unwise to visit Darjeeling during these months.
Winter is at its peak from mid-November until January.
How to Reach Darjeeling from Delhi?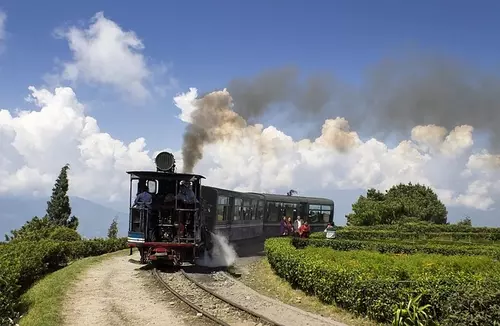 By Flight
Bagdogra Airport, around 95 kilometers from Darjeeling, is the closest airport to the city. There are a few direct flights to Darjeeling from cities like Kolkata, Delhi, and Guwahati. 
By Train
New Jalpaiguri, which connects Darjeeling with all the significant regions of the nation, is the station that is most nearby. There are several trains from places like Kolkata, Delhi, Guwahati, Chennai, Mumbai, Bengaluru, Bhubaneshwar, and Kochi. To go to Darjeeling, people can take private taxis from the station.
By Road
Several significant nearby cities, like Gangtok and Kalimpong, separated from Darjeeling by 100 and 51 kilometers, respectively, are well connected. The distance of 651 kilometers and the travel time of 14 hours from Kolkata to the city are also associated. This stunning location is only 310 kilometers from Kathmandu, the capital of Nepal. You can take a bus or a taxi from the airport to the city.
List of offbeat Tourist places Near Darjeeling
(1) Kurseong
In addition to having a beautiful view, Kurseong, also known as the "Land of White Orchids." This hill station is near Darjeeling, well-known for its Buddhist gompas, temples, and waterfalls.
Kurseong is a peaceful hill town perched on the highway between Siliguri and Darjeeling. Most of the year, Kurseong experiences moderate and pleasant weather. The town experiences days of non-stop rain during the monsoon season, which shows how benevolent the rain-gods are.
Timings: For Singalila National Park, 5:00 AM – 5:00 PM
Time Required : 3-5 days
Nearest Railway Station: New Jalpaiguri Railway Station
Located 49 kilometers from Darjeeling, Kurseong is reachable by buses, taxis, and jeeps. The closest airport is Siliguri, just 45 kilometers from Kurseong (Bagdogra Airport). From Bagdogra, one might take a taxi to Kurseong. Additionally, buses run between Kurseong and Siliguri.
The last train station, New Jalpaiguri, and
(2) Yuksom
Sikkim's Western area contains the lovely settlement of Yuksom, which is well-recognized for its outstanding natural beauty.
Near the Kanchenjunga National Park, the community of Yuksom lies hidden away in the midst of mountains covered in lush green vegetation.
The base camp of Mount Kanchenjunga is reachable from the town. Yuksom is, therefore, a well-liked vacation spot and the beginning place for a number of Sikkim's toughest challenging treks. Numerous fascinating tourist attractions are close by, and you should taste the local cuisine.
Distance from Darjeeling: 86 km
From Siliguri, Darjeeling, Gangtok, or New Jalpaiguri (West Bengal), which travels to Jorethang, one can take a shared jeep or taxi to Yuksom. One needs to take a second cab that travels in the direction of Yuksom after arriving in Jorethang. However, foreigners must cross the Meili Border before traveling to Jorethang. From Pelling, one can travel to Yuksom for about 1 hour and 39 minutes by cab or shared jeep.
(3) Dooars
Dooars is the name given locally to the wetlands of North-East India that surround Bhutan, stretching from the stream Teesta in the East to the river Sankoshi in the West.
Since the Dooars are the entrance of Bhutan, the name "Dooars" was born from the word "door." Jalpaiguri, Darjeeling, Siliguri, and other areas in this region are included in the Dooars.
Dooars is located somewhere in the midst of all of this. The entranceway one wants to avoid passing through coldly.
The closest airport is Bagdogra Airport, which is 83 kilometers from Dooars. It has excellent infrastructure and connections to several important Indian cities. You can quickly locate a taxi from the airport to take you to Dooars. The closest railway station to Dooars is Dhupguri, which is 26 kilometers distant. This station is connected to well-known cities by frequent trains.
(4) Lolegaon
Lava and Lolegaon are only 25 kilometers apart and are located about 120 kilometers from Siliguri. These two pristine settlements provide stunning views of snow-capped mountains, historic Buddhist monasteries, and other fascinating sights. This is the ideal vacation spot if you wish to enjoy nature as it was meant to be.
West Bengal's diversified terrain has a lot to offer, from the bustle of the metropolises to the peace of the peaceful towns. The towns of Lolegaon and Lava are two more unusual but equally stunning locations.
Distance from Darjeeling: 78 km
Best Time: October to June
From Siliguri, Lolegaon is accessible after a four-hour trip that travels 124 kilometers through Kalimpong and Lava. On the journey, you can explore Lava. The closest town, Kalimpong, is 55 kilometers from Lolegaon.
(5) Lamahatta
23 kilometers from Darjeeling is the picturesque West Bengal village of Lamahatta. The Lamahatta Eco Park was established in 2012 to display the breathtaking peaks, rivers, and dhupi & pine woods found here.
Lamahatta, Monk's Hermitage, offers a setting that is as calm as a monk and strikes a balance between nature and humanity. This eco-park, which is 5,700 feet above sea level, has a variety of attractions.
Distance from Darjeeling: 20 km
(6) Sukhiapokhri
West Bengal's Sukhiapokhri, sometimes known as Sukhis Pokhari, is a tiny, hilly town close to Nepal's eastern border.
About 18 kilometers separate it from Darjeeling. It's a pleasant escape in the spring at 7,198 feet, where one may observe rhododendrons in blossom. Additionally, the area is covered in magnolia, hemlock, and silver fir slopes.
Because of the nearby Gurashey Forest Resort's promise of breathtaking panoramas of the Kanchenjunga range, it has recently gained notoriety.
(7) Mirik
The hill station of Mirik, which is situated on the shores of a sizable lake, offers North Bengal wealth. Mirik, located in the Himalayan Valley, is home to more than just stunning mountains and lakes. Without Mirik, West Bengal tourism would be lacking in everything from boating excursions for a romantic vacation to temples for the devout to orchids and meadows for the little nature lover.
Distance from Darjeeling: 59 km
Best Time: March to July
Bus service to Mirik is the greatest mode of transportation. It is available frequently from all the key West Bengal towns.
The nearby airports and railroad stations are New Jalpaiguri Railway Station and Bagdogra Airport. To go off to Mirik, taxis can be booked at either location.
(8) Tinchuley
Tinchuley is a village near the West Bengal-Sikkim border, around 32 kilometers from Darjeeling. The name of the location, which has an elevation of 5550 feet, is a combination of the terms "tin" and "Chula," which means "three ovens" because the hill station's three hills resemble mud ovens. Amazingly, this does not exhaust the village's geographic variety because the rivers Teesta and Ranjeet also converge nearby. All of this adds to Tinchuley's stunning natural surroundings.
Distance from Darjeeling: 27 km
The closest place is Bagdogra Airport in Darjeeling, about 77 kilometers away. You'll need to call a cab to get to Tinchuley from there.
Based upon where one is traveling from, there are various routes one can take to get to Tinchuley via road. If you're coming from Siliguri (or another western region, like Sikkim),
(9) Sandakphu Peak
The tallest peak in West Bengal is Sandakphu Peak (11,941 Feet). The highest point of Singalila Ridge is situated near Singalila National Park in the Darjeeling district, almost at the Nepalese border. Four of the five largest peaks in the world may be seen from Sandakphu, the highest mountain in West Bengal. The nicest view is of Kanchendzonga mountain. The peak is accessible by car or on foot.
Distance from Darjeeling: 82 km
Bagdogra Airport can all be driven to in roughly 4 hours from Manebhajan, the Sandakphu Trek's starting point. If there are no direct taxis, you can take a break trip from Mirik.
Rail: NJP is the closest rail station to the trek's base camp. From there, take a bus or a taxi to get to Darjeeling.
(10) Lepchajagat
The small settlement of Lepchajagat is about 19 kilometers from Darjeeling. Because of its elevation (6956 feet), this place is a paradise for environment lovers and honeymooners.
The people of Lepchajagat offer rhododendron, oak forests, and peace amid thick pine. It is peaceful to look at the Kanchenjunga peaks from this. It is currently a protected forest area.
(11) Ramdhura
Ramdhura is a tiny village in West Bengal that is 15 kilometers away from Kalimpong. This beautiful location is where one can see the Cinconha plantations, Teesta River, pine forests, and Kanchenjunga peaks. This captivating hamlet is also home to many birds and butterflies. People frequently travel to this serene region to reside in a native homestay and enjoy nature. It is also perfect for quick mountaineering or trekking excursions.
Distance from Darjeeling: 63 km
Conclusion
It was a fantastic experience to take a holiday like this, seeing a place with the ideal balance of breathtaking views of snow-capped mountains, tea gardens, floral plantations, sightseeing excursions and activities, fantastic food, and reasonably priced accommodations.
People Also Ask For
Q.1) Which is a better destination: Darjeeling or Gangtok, Sikkim?
Darjeeling has subtropical weather with significant humidity. The weather in Gangtok is somewhat comparable to that in Darjeeling. It is the perfect time to travel because Gangtok's climate is comparatively cool.
Q.2) What are the must-do things in Darjeeling?
The region's toy train is a very well-liked attraction. Other unusual things to do in Darjeeling include visiting the Yiga Choeling in Tiger Hills and hiking to the top of Sandak. Padmaja Naidu Himalayan Zoological Park offers visitors the chance to explore the region's rich biodiversity and wildlife species.
Q.3) What is the best way to go to Darjeeling from Kolkata?
The fastest and least expensive way to travel from Kolkata to Darjeeling is via train to Patna Jn, bus to Siliguri, and then a cab to Darjeeling. This journey lasts 27 hours and 19 minutes.
Q.4) Is it safe to visit Darjeeling in July?
The best times to visit Darjeeling are during the summer and winter. Darjeeling's off-season in July allows you to travel there on a budget. Because July is off-season, visiting this location in July is more affordable.
Q.5) How much does it cost to visit Darjeeling, including everything?
  The expenses can vary from Rs. 23,049 to Rs. 35 999 depending on the days spent like for 3 Nights / 4 Days and 5 Nights / 6 Days.
Q.6) What should a female pack for a trip to Sikkim and Darjeeling?
You should bring light to heavy wool clothing, such as coats, tops, gloves, stockings, etc. Warm internal clothing that covers the entire body can be helpful at night. An average high and low temperature ranges from 13°C to 8°C. You must bring light wool clothing, such as a respectable coat, shirt, pair of gloves, socks, and so on.
Q.7) What is the best way to reach Darjeeling from Siliguri?
Distance and travel time between Siliguri and Darjeeling via the NH10 and the Matigara-Kurseong Road. The only and quickest way to get from Siliguri to Darjeeling is via this route.
Q.8) What is famous or special in Darjeeling?
Commonly known as the "Queen of the Hills," Darjeeling is a popular tourist destination renowned for its natural splendor, historic woods, charming homes, warm residents, and panoramic views of the mountains it offers.
Q.9) What is the best way to reach Darjeeling from Hyderabad?
Hyderabad and Darjeeling are not directly connected by any form of transportation. The quickest and least expensive way to travel from Hyderabad to Darjeeling is via train to Santragachi Jn, followed by a train to Kishanganj and a taxi to Darjeeling, which takes 45h 4m.