There are many natural wonders in West Bengal. From the magnificent Himalayas to the peace of the Gangetic plains, from the tranquil seashores to the stunning mangroves.
The vibrant celebrations, exquisite architecture, lovely crafts, traditional and modern music, and mouthwatering ethnic cuisine contribute to West Bengal's allure as a wonderful location offering remarkable experiences.
Must Read: Best Places to Visit in Odisha
Let's see West Bengal's best tourist attractions.
Best Places to Visit in West Bengal
(1) Ajodhya Hills
One of the top honeymoon destinations near Kolkata that I visited was Ajodhya Hills. This place is a hidden paradise where I saw the enchanting views of streams flowing in all directions and merging into a large one.
It is located in the Purulia District. In addition to exploring the local sights, I attempted mountaineering and rock climbing to get an enthralling experience.
Must Read: Famous Places to Visit in Assam
325 kilometers separate you from Kolkata.
For the ultimate romantic experience, exploring the hills in the morning or at dusk should be the best option to get some stunning images.
March to September is the ideal time to visit.
How to get there: From Howrah station, take a train to Adra, then a bus to Ragunathpur, which will bring you to Ajodhya Hills.
(2) Mukutmanipur
In Mukutmanipur, the natural world shows off its real glory, giving some breathtaking vistas that may not be found elsewhere near Kolkata.
One can never grow tired of this charming location because there is no shortage of attractions to see, nature parks, temples, and activities to do.
Mukutmanipur is regarded as one of the top honeymoon destinations near Kolkata.
263 kilometres separate you from Kolkata.
Take the ferry voyage and spend some romantic time with your partner for the ideal romantic experience.
October to March is the ideal time to visit.
How to get there: From Howrah, take a train to Bankura, where you must take a taxi because Mukutmanipur is 52 kilometres away.
(3) Shankarpur
Another beach town that is a well-liked travel destination in that area of the country is Shankarpur.
This place offers a level of tranquillity that is unmatched. Shankarpur is the ideal getaway after your wedding because Kolkata is one of the nation's most popular and crowded cities.
This town is beautiful thanks to the stunning sunsets, thrilling sounds, picturesque landscape views, and stunning surroundings.
174 km separates you from Kolkata.
To have the most romantic date, go down to the beach, take beautiful pictures, unwind on the sand, and watch the sunset.
Best time to go: any time of year
How to get there: Digha is the closest railroad station to Shankarpur.
(4) Howrah Bridge
Howrah Bridge, a sizable steel bridge built over the Hooghly River, is a well-known landmark of Kolkata.
It is regarded as one of the world's longest cantilever bridges. It connects Howrah and Kolkata and is also known as the Rabindra Setu. It is grand and historic, carrying over 100,000 automobiles and countless pedestrians daily.
However, when the bridge is fully lit at night, its magnificence truly comes to life. I also saw a ferry from the launch ghat that travelled between Kolkata and Howrah. To put it mildly, the view of the city from the ferry is priceless, especially at night.
(5) White Marble building
It is a stunning White Marble building that was started in 1906 and finished in 1921. It was initially intended to be a memorial to Britain's Queen Victoria. Still, due to its beautiful design and exhibits, it has become a gallery that draws many visitors.
There I saw an artistic monument that combines Mughal and British architectural styles. A museum with 25 galleries and exhibits of sculptures, portraits of historical figures, weapons, and armour can be found inside the massive stronghold. Additionally, it contains original and distinctive compositions by Omar Khayyam, William Shakespeare, and Arabian Nights.
Offbeat places to visit in West Bengal
(1) Garh Panchkot Fort
The crumbling remains of the Garh Panchkot Fort are tucked away on the Panchet Hills' foothills. These ruins serve as a reminder of the Bargi invasion from the 18th century. Nearly 300 kilometres separate Purulia, where Garh Panchkot is located, and Kolkata.
This area, surrounded by the lush vegetation of Panchet Hill, is littered with ruins. I've also passed by the Panchet Dam on the way.
(2) Lepchajagat
A few miles from the renowned hill station of Darjeeling is the charming, remote village of Lepchajagat. I visited Lepchajagat for a brief getaway into the embrace of nature.
The settlement takes its name from the Lepcha, a tribal clan that formerly ruled the area.
A few attractions in and around the lovely village include the twin lakes Jorpokhri and Manebhanjan and the Old Ghoom monastery.
(3) Sandakphu
Since Sandakphu is the highest hill in West Bengal, it is one of the most popular hiking locations. It may be reached by hiking through the Singalila National Park, situated on the Singalila mountain ranges.
I opted for trekking there, which allowed me to explore the national park, where I came across wildlife like Himalayan black bears and clouded leopards or birds like blood pheasants and scarlet minivets, to name a few.
It could require 7-8 days to complete the hike up to Sandakphu. There are numerous guided treks to Sandakphu.
(4) Samsing
Samsing, another adorable tiny village, is situated in West Bengal's Jalpaiguri district.
The village is surrounded by lush green tea gardens, forests, and unspoiled natural beauty. It is located in the foothills of Jalpaiguri.
Samsing might be a great alternative vacation destination when the weather is nice and warm.
A short distance from Samsing is the Neora Valley National Park. I captured the lovely views of the Neora River and the rare and adorable red pandas.
Since the park is home to many birds, including the red-headed bullfinch, mountain hawk-eagle, and crimson-breasted woodpecker, bringing a set of binoculars proved to be a better decision.
Best Historical Places in West Bengal
(1) Santiniketan
Few people are familiar with Santiniketan, a small town in West Bengal's Birbhum region best known for being Rabindranath Tagore's birthplace and modern university.
Visva Bharati University makes up the majority of the town.
Rabindranath Tagore's father founded the university, which he later championed to fundamentally alter Indian education.
(2) Cooch Behar
Cooch Behar, a modestly developed township in North West Bengal that was originally part of the Koch dynasty, is a fantastic choice for weekend getaways for eco-tourists and people who are interested in history and archaeology.
Cooch Behar is a region in the state of West Bengal's North East that is part of the Jalpaiguri division and is bordered to the south and west by the Indo-Bangla border, Assam, and Jalpaiguri.
A joyful tiny town with a strong sense of community, Cooch Behar is known for its rich cultural legacy.
(3) Malda
Malda is the ideal location for you if you want to return to your roots. The lovely town of Malda, which lies around 350 kilometers from Kolkata at the junction of the rivers Mahanadi and Kalindi, is well known for its legacy and history, as well as its mango plantations.
Every street and nook of Malda is literally etched with Indian history. Popular local goods include jute, silk, and mango. Mango orchards and mulberry farms take up a lot of space.
There I tasted the rich history.
(4) Bankura
A town with a rich history, Bankura is renowned for its hills and temples and is a delight for fans of adventure sports like trekkers and hikers.
West Bengal's Bankura is a temple city with a long history. History and spirituality in the area blend to produce a straightforward but distinctive tourist experience which I experienced.
Additionally, drawing travellers from throughout the world are Bankura's clay temples. The places to see in Bankura include Siddheswara Temple, Biharinath Hill, Koko Hill, Susunia Hill, and many more.
(5) Bishnupur
A place with a rich past and an equally rich present in terms of culture, art, and architecture are Bishnupur.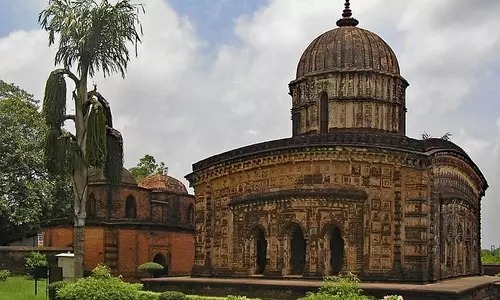 As seen by the region's affinity for classical music, art, and Baluchari sarees, its legacy and ornate culture extend into various tourist attractions.
The region is well-known for its various temples, including the Jorbangla, Rasmancha, and Shyam Rai temples. These take great pride in the fact that they are both architectural wonders and bearers of important histories.
The Best Hill Station in West Bengal
(1) Rimbik
Two trekking paths connect Sandakphu and Rimbik, and Rimbik is well known for luring hikers. One is a track that runs directly through woodlands from Bikebhanjan to Rimbik. The alternate trekking route connects Rimbik with Gurdung and Srikhola.
The excellent weather and occasional light rain are the best months to visit in March, October, and November.
Highlights include visiting Padmaja Naidu Himalayan Zoological Park and enjoying a breathtaking view of Kanchenjunga, the third-highest mountain in the world.
Getting to Rimbik:
Bagdogra Airport is the closest one to Rimbik by air.
-By Train- Siliguri and New Jalpaiguri railway stations are the closest to Rimbik.
(2) Mirik
Mirik, sometimes called the Valley of the Sun, is well-known for its breathtaking mountains and lakes.
The only hill station in West Bengal that provides a hideaway where you may relax, go shopping in a bazaar, or take a boat trip is here.
It is also renowned for its tea gardens, natural beauty, and orange orchards.
When to go: The best months to visit Mirik are March, April, October, and November.
Highlights include Bokar Monastery, Orange Orchards, Don Bosco Church, and Sumendu Lake.
Where to find Mirik:
Bagdogra Airport is the closest one to Mirik by air.
-By Train- New Jalpaiguri is the railroad station closest to Mirik.
(4) Dooars
Dooars got its name since it is regarded as India's entryway (door) to Bhutan. This West Bengal hill station is located from the Teesta River in the east to the Sankosh River in the west and the Dooars.
It has an enormous variety of wildlife, including deer, elephants, one-horned rhinos, guars, and reptiles. It is also renowned for having extensive woodlands that can be explored.
The location is ideal for those who enjoy the outdoors.
The best time to go is in the winter, from September to May.
Highlights include the Mahananda and Champrapari wildlife refuges.
Getting to Dooars:
The closest airport to the Dooars is Bagdogra.
-By Train- New Jalpaiguri is the railroad station closest to the Dooars.
(5) Kurseong
Known as the "Land of White Orchids," Kurseong is one of West Bengal's most popular hill towns and is well known for its temples, museums, parks, waterfalls, churches, and Buddhist gompas.
Tourists are drawn to this beautiful location to learn about its history and culture since it is supposed to be the home of 300-year-old Hindu god idols.
March through June and September through December are the best months to visit. Avoid the monsoons at all costs.
Highlights: A toy train ride provides a panoramic view of the area.
Getting to Kurseong:
Bagdogra Airport is the closest one to Kurseong by air.
Train: New Jalpaiguri is the railroad station closest to Kurseong.
(6) Takdah
Takdah becomes an excellent getaway location for you if you're looking for any undiscovered hill stations in West Bengal to unwind in the quiet.
Despite being only 28 kilometres from Darjeeling city, it remains remote and undiscovered by the rest of the world.
Takdah is certainly a heaven on earth, with its winding trails covered in snow, dense trees, and constant chattering of birds.
Best months to go: October to March
Highlights:
The Orchid Center
– Tea plantations like Poomong, Teesta Valley Estate, and Rungli Rungliot.
– Durbin's Point of View
How to get there: Takdah is 60 km from the airports at Bagdogra and NJP. You will travel this distance by car in around 2.5 kilometers.
Best Beach in West Bengal
(1) Mandarmani Beach
One of West Bengal's most well-known beaches, Mandarmani, is frequented by many tourists. In addition, Mandarmani is renowned for having the nation's longest motorable beach.
The distance is nearly 13 kilometers. It is one of the calmest beaches in the region, and you can see some of the state's most breathtaking sunrises and sunsets there.
I sipped coconut water while strolling along the beach and even picked up some delicious seafood from the roadside restaurants.
October through May is the ideal season to travel.
(2) Shankarpur Beach
One of West Bengal's most stunning beaches is Shankarpur Beach, where I saw the sun kissing the ocean waves.
The fishermen are also visible, their boats trailing nets in the water. For people who enjoy photography, this is a great location.
December through April is the perfect season to travel.
(3) Junput beach
Junput beach is another lovely beach that you must check out if you're seeking peace and quiet.
The Brackish Water Fish Cultivation and Research Center Museum is well-known for being on the beach.
While you're here, you must stop by the museum to see some uncommon fish, snakes, and aquatic animal species. The lighthouse and the Kapalkundala temple are two attractions close to this beach.
Travel at its finest from October to March.
(4) Tajpur
Tajpur is a unique beach with clear seas and a backdrop of rich vegetation.
The lavish seafood served at the beachside restaurants has recently drawn much attention to the area's beaches.
Here, I tried the crab curry and advised everyone who must try this dish.
This location is lovely because of the thick tamarisk trees on one side of the water. The intermittent visibility of red crabs at Tajpur Beach is one of its key draws.
Travel at its finest from October to February.
(5) Digha Beach
Perhaps one of West Bengal's most well-liked beaches, Digha Beach is frequented by families on the weekends.
The Science Center and Shiva Temple are two tourist attractions close to this seashore. There is a 7 km long area of land close to the water where you may sit and watch the waves come and go for hours. On the beach, I've participated in various water sports activities.
Travel at its finest from October to February.
(6) Falta Beach
Falta Beach is renowned for its historical significance. It is one of West Bengal's most popular beaches and a sight to behold.
According to history, the British Raj was started by Robert Clive by entering Kolkata from this beach after many years.
Siraj-ud-daula had taken control of Kolkata from here in 1756. This may be among the best weekend road trips to the beaches of West Bengal.
Travel at its finest from October to February.
National Parks to Visit in West Bengal
(1) Sundarbans National Park
Sundarbans National Park in West Bengal, India, is renowned for housing the largest mangrove forests in the world. It is situated about 110 km south of Kolkata. It is a UNESCO world heritage site with a wide range of bird and animal species, including reptiles like saltwater crocodiles.
It is also a tiger reserve and a biosphere reserve famous for being the home of the Royal Bengal tigers.
Most Sundari trees can be found in this forest. The Sundarbans represent wilderness with meandering rivers, springs, creeks, and estuaries.
The Bioreserve also has endangered populations of turtles, king crabs, olive ridley fish, and batagur baska. You can also encounter crocodiles, spotted deer, wild boar, gigantic reptiles, and jungle birds in these jungles. Another well-known attraction is the Siberian ducks.
(2) Buxa Tiger Reserve
The Dooars, Northeast India's alluvial floodplains, are home to the largest forest, which makes up the Buxa Tiger Reserve, covering an enormous 759 sq.
Many rivers and their tributaries water this tiger reserve, which covers kilometers. It boasts stunning and varied scenery.
This tiger reserve's role as an international passageway for elephant migration between India and Bhutan is another fascinating fact!
This reserve has more than eight different types of forests. It is home to 230 species of unidentifiable birds, 67 species of animals, and 36 species of reptiles.
(3) Gorumara National Park
The Gorumara National Park, located in the Jalpaiguri district of West Bengal on the banks of the rivers Murti and Raidak, is a destination I should advise every visitor to for their vacation because it is home to a wide diversity of flora and animals.
The region, which is home to many other mammals, reptiles, insects, and birds like the majestic Asian elephants, the regal Bengal tigers, and the Great Indian Hornbill, is full of riverine grasslands and moist deciduous forests. It is particularly well-known for its Asiatic one-horned rhinoceros.
Also easily seen here are Indian Wild Dogs, Giant Squirrels, Wild Boars, Deer, Cobras, Pythons, Woodpeckers, and many other species.
(4) Neora Valley National Park
The Neora Valley National Park is located in West Bengal's Kalimpong district. It is one of the wealthiest ecological zones in eastern India, covering an area of 88 sq km.
The river Neora that runs through it gave it its name. Numerous parts of the park are still inaccessible because of the opulent expansion of the forest cover.
commonly referred to as the majestic red panda's home, this pure natural habitat
The park is home to a vast range of fauna, including Hodgson's Hawk Cuckoo, Jerdon's Baza, Bay Woodpecker, Golden-throated Barbet, and many others, as well as mixed types of flora, including bamboo, oak, ferns, sal, etc.
(5) Jaldapara Wildlife Sanctuary
The Jaldapara Wildlife Sanctuary and Gorumara National Park, located in the eastern foothills of the Himalayas, are well-known for their one-horned rhinoceroses, elephants, Bengal tigers, spotted deers, barking deers, sambhar deers, bison, wild pigs, hog deer, and bison.
With a sizable variety of eagles, Bengal floricans, Indian Hornbills, jungle fowl, peafowl, partridges, and other birds, the skies here will also be a part of your tourist destination.
Eagle species like the fishing eagle and crested eagle can also be sighted. Additionally, the adjacent Gorumara National Park and the remnants of an old fort inside the Chilapata Forest are well worth visiting.
I took a ride on an elephant through the park because Jaldapara is known for having a large population of elephants.
Things to do in West Bengal
(1) Parasailing
Shikarji is renowned as a holy site for Jainists and is currently a well-liked location for adventurous activities.
Go to Shikarji to enjoy parasailing in the skies while gliding through the air and above the forests. You may go trekking and rock climbing in addition to paragliding here.
(2) Camping
The largest estuary forest in the world is now available for your enjoyment and exploration!
Don't pass up the chance to set up camp at night and wonder if a tiger is watching you from somewhere nearby. Most visitors stay at the well-known Sunderbans tiger camp, a UNESCO World Heritage Site.
(3) Rappelling and rock climbing
The sport of rappelling develops an addictive quality over time. When I glanced down, I experienced fear filling my body. When I reached the earth within that seemingly unending bottom, I could feel an enormous flood of relief.
One of the most fascinating locations for rappelling and rock climbing is Joychandi Pahar, which has quickly gained popularity among travellers seeking adventure.
(4) Snorkelling
I got the opportunity to participate in aquatic activities within a few kilometres of Kolkata.
At Tajpur Beach, the newest adventure hotspot was to swim and snorkel in the clear waters. In addition to snorkelling, one can go surfing, engage in rubber boat propulsion, or take a journey in a glass-bottomed boat.
Snorkelling is one of the most exciting and enjoyable activities in Kolkata.
(5) Trekking
Exploring Biharinath Hill, which is ideal for trekking, was one of the most recommended ways to escape the bustle of the city.
As you are encircled by the Purulia hills on one side and the Damodar River on the other, climb the mountain.
(6) Kayaking
All age groups can participate in the enjoyable adventure sport of kayaking.
The New Town Eco Park in Kolkata is excellent for kayaking but offers other sports and activities.
I took an enthralling speedboat ride, went ice skating, and practised target shooting at their rifle range.
West Bengal is a beautiful location that offers unique experiences. These many West Bengal tourism destinations provide everything, whether I wanted to be among academics and drifting minstrels or brave and decide to roam with rhinoceroses.
One can find a thousand reasons to stay in West Bengal and explore every inch of the state. The finest trip I have ever explored and enjoyed was checking out West Bengal's top tourist destinations and visiting there.
Frequently Asked Questions (FAQs)
How to Reach West Bengal from Delhi International Airport?
By scheduling a flight, you can travel from New Delhi to Kolkata. The flight will take about 2 and 5 minutes between New Delhi and Kolkata. The cost of the airline ticket is roughly Rs. 2609.
Which food is famous in West Bengal and why?
West Bengal is renowned for being the "country of the maach" (fish) and the "bhaat" (rice). These two delicacies are staples in practically every Bengali home, and Bengalis have an unbreakable bond with them.
Which Ethnic thing is Famous in West Bengal?
Bengali Hindus comprise most of the state's population and are the dominant ethnic group.
West Bengal's largest celebration is Durga Puja. Durga Puja lighting decorations with glitter. West Bengal's largest celebration is Kali Puja. Swaroop Puja. In Bengal, Rath Jatra is a widely observed holiday.