Jammu and Kashmir is one of the most opulent places to visit, with the best tourist places. This place always remains at the top of any traveler's bucket list because of its immense allure. Situated as a crown to our country, the land is truly called 'Paradise on Earth.
In a true sense, heaven on Earth has many tourist places to visit and cherish moments to enjoy.
Summer season will be the best time to explore the best tourist places in Jammu and Kashmir as the place receives heavy snowfall during the winter.
Most Recommended: 20+ Best Places to visit in Leh-Ladakh in this year
It is famous for its magnificent beauty, flowery lakes and gardens, apple farms, handicrafts, world-famous shawls, exotic wildlife, majestically built forts, temples, mosques, and adventurous activities, a uniquely designed status to visit once in a lifetime.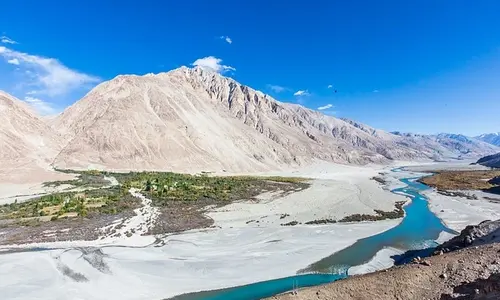 In 2019, the state of Jammu and Kashmir was declared a Union territory giving the status of Union territory to Ladakh separately. Jammu & Kashmir is surrounded by Ladakh, Himachal Pradesh, Punjab, and Pakistan.
Most Recommended: Best Places to see in Himachal Pradesh
The state's administrative capital is the enchanting city of Srinagar in summer and Jammu during winter. The state's population is nearly 12,367,013, and the area is around 16,000 square miles.
Best Places to Visit in Jammu and Kashmir
(1) Srinagar
Srinagar, the capital city of Jammu and Kashmir, is one of the most beautiful tourist places.
Most Recommended: Best Places to see in Punjab
The largest Tulip Garden in Asia, Mughal Gardens, Dal and Nageen Lake, and a surprising floating vegetable market in Srinagar are titled "Land of Gardens and Lakes'. You can relish the exciting Shikara Ride and delight yourself in a houseboat stay on Nageen Lake and Dal Lake.
(2) Pahalgam
Pahalgam is one of the most enchanting hill stations and a popular tourist place.
Situated near the banks of river Lidder, one can experience the thrill of the activities like fishing, trekking, hiking, river rafting, etc.
This place is quite popular because of its great Bollywood significance, as some of the movie Betaab scenes are captured here.
(3) Sonmarg
Sonmarg is one of the most mesmerizing hill stations and a captivating tourist spot.
It is situated at an altitude of 2800 kilometers above sea level.
Surrounded by snowy mountains, composed lakes, and gigantic glaciers make, this place is a paradise for visitors.
During winters, it becomes hard to reach there due to heavy rainfall. Therefore the time between May to October will be the best time to go there.
(4) Patnitop
Patnitop is a panoramic hill station with never-ending snow-covered mountains, meadows, and sceneries.
It is well known for adventurous activities like Skiing, trekking, water springs, paragliding, etc.
(5) Sanasar
Sanasar, a combination of the Sana and Sar villages, is one of the underrated tourist places to visit, especially for adventure seekers.
The place offers many adventure activities like trekking, rock climbing, paragliding, abseiling, etc.
Various temples present there give a spiritual essence to the atmosphere and will give you immense peace and inner joy.
Other delightful tourist places to visit in Jammu and Kashmir are,
Anantag
Aru Valley
Yusmarg
Bhaderwah
Uleytokpo
Pulwama
Historical places to visit in Jammu and Kashmir
(1) Bahu Fort
Bahu Fort is located about 5 kilometers from the center part, on the banks of the river Tawi.
The fort was built about 3,000 years ago by King Bahulochan, brother of King Jambu lochan, making it one of the most historical places to visit in Jammu and Kashmir.
He observed a peaceful coexistence at this place and decided to build a new capital there. The fort is famous for its Goddess Kali Temple and Bave Wali Mata Temple. The fort truly contributes to the beauty of Jammu and Kashmir.
Timings- 5:00 AM- 10:00 PM
Entry Fee- ₹10/-(Adults), ₹5/-(Children)
(2) Drass War Memorial
Dras War Memorial is located in Kargil and was built by the Indian Army to commemorate the officers and the great soldiers. They lost their lives in the Kargil war in 1999. It is also called Vijaypath, built of pink sandstone with an inscription dedicated to the great martyrs.
Timings: 7 AM- 7 PM
(3) Mubarak Mandi Palace, Jammu
The Mubarak Mandi Palace is a splendid blend of Rajasthani, European and Mughal cultures.
The Shesh Mahal or the Pink Hall, the Dogra Art Museum consists of various miniature paintings, including Emperor Shah Jahan's golden bow and arrow.
(4) Pari Mahal, Srinagar
Pari Mahal, or the Palace of fairies, was built by Dara Shikoh, son of the Mughal Emperor Shah Jahan is a garden having seven terraces above the Shahi Garden near Srinagar. It's one of the most beautiful historical monuments on the top of the Zabarwan range over Srinagar and Dal Lake.
It was believed that it was a monastery before. Still, the prince built the palace with Islamic architectural work surrounded by beautiful gardens.
Timings: 9:30 AM to 5:30 PM
Entry Fee: ₹20/-
Religious places to visit in Jammu and Kashmir
(1) Amarnath Cave
The Amarnath Cave is dedicated to Lord Shiva and is one of the most sacred pilgrimages for Hindus. It is located at 4,000 meters, 141 kilometers ahead of Srinagar. The entire area, including the temple, remains covered with snow throughout the year.
The best time to visit there is only during the summer, from June to August.
(2) Maa Vaishno Devi Temple
Vaishno Devi Temple, situated in Katra, is one of the most pious pilgrimages devoted to the goddess Vaishnodevi. The bhajans for the goddess or the Jakarta will fill your mind and soul with spiritual and peaceful essence while standing in a long queue and waiting to glimpse the goddess.
The best time to visit this pilgrimage is between March to October.
(3) Shankaracharya Temple
Shankaracharya Temple is one of the famous temples in Jammu and Kashmir. The temple is situated at an altitude of 1000 feet from sea level, and the Shankaracharya hill is located on Zabarwan Mountain, Kashmir.
This temple is also called Jyeshteshwara, which is devoted to Lord Shiva. September to October will be the best seasons to visit the temple.
(4) Holy Family Catholic Church
Holy Family Catholic Church is one of the prominent churches in Srinagar. It was established by Msgr. Winkley MHM in the year 1896. Christmas is celebrated here with great pomp and enthusiasm every year.
(5) Pathar Mosque
This mosque is situated on the banks of river Jhelum and was built during the Mughal era by the wife of Emperor Jahangir, Noor Jahan.
This mosque is made up of stone with no arches or pyramids on the top. Any time will be suitable for visiting this mosque.
(6) Jamia Masjid
Jamia Masjid is one of the state's biggest and most sacred mosques. The mosque has a majestic courtyard with 370 wooden pillars and impressive Indo-Saracenic architectural work. The dignified mosque is so enlarged that it can welcome around one lakh people at a particular time.
Other religious places include,
The Lord Surya or Martand Temple
Ziarat Dastgir Sahib
Charar-e-Sharif
Kheer Bhawani Temple
Best National Parks and Wildlife Sanctuaries in Jammu and Kashmir
(1) Kishtwar High Altitude National Park
Kishtwar High Altitude National Park is one of the most beautiful places to capture the scenic beauty of nature and wildlife. The place was declared a National Park in 1981.
Due to the undulated topography, the elevation changes within the range of 1700 meter low and 4800 meters high.
This National Park is home to many species like Hangul, Snow Leopards, Muntjac, vulture, bulbul, flycatcher, etc.
September to March will be the best time to watch mammals, and March to May for the birds.
(2) Dachigam National Park
Dachigam National Park is situated about 22 kilometers from Srinagar in the Zabarwan Range of the Western Himalayas. The land consists of meadows, alpine pastures, rich vegetation, and captivating waterfalls.
This wildlife spot provides shelter to unique species, including Himalayan Black Beer, Pygmy Owlet, Cinnamon sparrows, colorful pheasants, etc.
The best time to visit here is between April to August.
(3) Gulmarg Wildlife Sanctuary
Gulmarg Wildlife Sanctuary is one of the most beautiful Wildlife sanctuaries to visit, especially if you're a nature lover. It is located near Srinagar, with the whole area covered with lush greenery, including Cedrus Deodara, Pinus Grifithii, Aesculus Indica, Abies Pindrow, and animals Red Fox, Hangul, Musk Deer, Black Beer, etc.
(4) Ramnagar Wildlife Sanctuary
Ramnagar Wildlife Sanctuary is about 5 kilometers away from Jammu, with heights varying from 430-611 meters.
This Wildlife Sanctuary can be visited by any traveler smoothly and comfortably.
The area covered is around 30 kilometers giving a home to Barking Deer, Wild Boar, Nilgai, Rhesus Monkeys, etc.
March to May will be the best time to witness this mesmerizing place.
(5) Hirpora Wildlife Sanctuary
Hirpora Wildlife Sanctuary is one the best places to visit and watch the various species of birds and animals. This Wildlife Sanctuary is home to around 130 species of birds with rich flora and fauna listed as Coniferous forests, Sub-alpine pastures, Subalpine scrub forests, Himalayan Palm Civet, Tibetan Wolf, Himalayan Griffon, etc.
October to March will be the best time to explore this Wildlife Sanctuary.
Other wildlife sanctuaries include
Overa Aru Wildlife Sanctuary
Achabal Wildlife Sanctuary
Kazinag National Park
Salim Ali National Park
Things to do in Jammu and Kashmir
(1) Shikara Ride
Away from all the hustle and bustle of the world, this tourist place in Jammu and Kashmir provides you with marvelous surroundings to adore.
The boatman will take you to another soothing world away from all the stress and disturbances.
You can try Shikara Ride in Dal Lake, Srinagar, and Manasbal Lake, Sonamarg.
Charges- ₹150/- to ₹250/-
Timings: 6am to 5pm; every day.
(2) 'Gondola' Cable Car Ride
Exploring the 'Gondola' Cable Car Ride is one of the best things to do in Kashmir. Watching the magnificent snow-capped mountains is a worth-witnessing moment.
The riding consists of three stages-
Stage-1) Gulmarg to Kongdoori
Stage 2) Kongdoori to Apharwat Peak
Stage 3) Kongdoori to Mary Shoulder (Chair Lift)
Charges-
Stage-1 = ₹600/-
Stage-2 = ₹800/-
Stage-3 = ₹ 300/-
Timings-
10 am to 5 pm (for riding); everyday
9 am to 3 pm (ticket sale); everyday
(3) Gulmarg Golf Club
It's indeed a wonderful experience to play golf under the elite nature; Gulmarg Golf Club is one of the world's largest and highest 18-hole golf courses.
Charges- ₹800/- (Indians), ₹1200/-(Foreigners)
(4) Pony Ride
Pony ride is one of the oldest ways to enjoy and feel the lifestyle of Jammu and Kashmir. It's a common way of transportation and is famous in the regions of Gulmarg, Sonamarg, Yusmarg, and Pahalgam.
(5) Skiing and Snowboarding
Skiing and Snowboarding are the best adventurous activities in Kashmir during winter. Many places in Kashmir are covered with snow, including Pahalgam, Sonamarg, and Gulmarg, providing this opportunity with winter onset.
Charges- ₹5,600 onwards
Dates- 30th Jan to 2nd Feb and 5th Feb to 8th Feb.
Other Things to do in Jammu-Kashmir
Mountain Biking
River Rafting
Trekking
Hot Air Ballooning
Camel ride and camping.
Note: Here are some of the points to keep in mind while traveling to Jammu and Kashmir are,
As the region is colder, you should take care of your health as you can catch a Cold & Flu.
Take Woollens with you even during the summer and keep your heads covered at higher altitudes.
The place has got many tourist places at its best, but some are located near LOC, so don't go far away from there.
Take proper IDs and the allotted passes to enjoy the trip without hindrance.
Explore as much as you can; the paradise on Earth has many tourists places to visit
Keep cash with you; there can be chances of non-availability of ATMs due to snowfall or poor power connection.
Frequently Asked Questions (FAQs)
Q1. What is the main tourism center in Jammu?
Ans: The main tourist centre in Jammu at Bahu Fort, Amar Mahal , Raghunath Temple, Akhnoor Fort, Mubarak Mandi Palace etc.
Q2. Which is the best month to visit Kashmir?
Ans: The best time to visit Kashmir will be during the summer, i.e., from March to June. It will be the perfect time for sightseeing.