No one relishes spending hours at the airport waiting for a flight, whether it's their first or a hundredth overseas vacation. There's always a chance that you'll want to kill some time and visit one of the terminal's numerous duty-free stores.
However, before you start stuffing your shopping bags with a wide variety of whiskeys, candies, and perfumes, I must caution you against believing the widespread misconception that duty-free products are always less expensive! I don't profess to be an expert, but I have taken many flights in the last few years and have frequently waited for a long time before boarding.
Most Recommended: 13+ Things to do on a Plane
Discover what can be purchased in duty-free stores and which airports have the best duty-free options.
What do you mean by Duty-free shopping?
Duty-free shops are retail outlets at airports and international borders where customers may buy goods without having to pay taxes or import fees.
Most Recommended: Latest 17 Best Solo Travel Tips
The name "duty-free" is misleading because not all taxes are necessarily waived for goods purchased at duty-free stores. They are typically free from the taxes and tariffs levied on items bought in the nation of origin.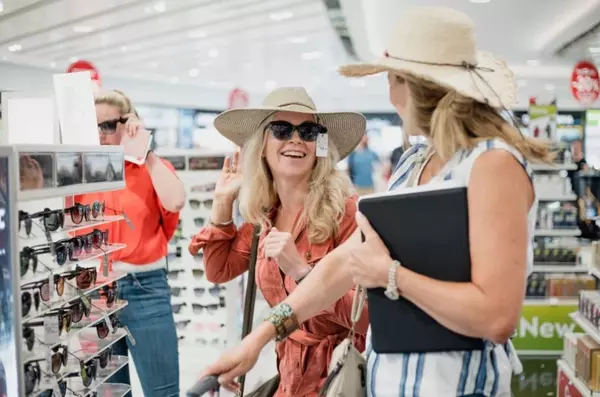 Travellers like duty-free shops as they allow them to save some money on expensive and upscale goods. Here are a few of my favourite tips now that you understand what duty-free actually entails:
(1) Don't always assume Duty-Free is Cheaper
Be sure to estimate the price of your preferred perfume or chocolates before purchasing them duty-free. You may also compare prices on websites like Amazon and Flipkart.com.
(2) Keep in mind that you have four chances to shop at the duty-Free
In the airport's sea of flashing deals and offers, it is simple to become lost. You are not to blame. Nevertheless, it's crucial to control your immediate desire and wait to compare rates at both the airports you are flying into and out of.
You wouldn't believe how much money I've managed to save simply by resisting this temptation. In addition, I always choose to shop at the duty station on the way home so I won't have to carry my items.
(3) Be Wary of Import Restrictions
Knowing your rights to duty-free shopping in the nation you are travelling into is crucial. If you violate the restrictions, you risk paying customs taxes considerably higher than standard tax rates.
Your purchases may get so pricey as a result that they would not have been worthwhile to begin with. Indian nationals may import products valued up to INR 45,000 as of April 2018. Anything costing more than this is subject to a staggering 36% tax!
(4) Verify the compatibility of the electronic products
After spending your kidney to purchase an iPhone, the last thing you want is for it to stop working in your country of residence. No phone is guaranteed to function globally since every nation has different cellular transmission bands, as strange as it may sound to you.
Additionally, be careful to find out from the sellers if the phones you're buying are "unlocked," which means they may be used with any telecom provider worldwide. You cannot possibly suffer more harm by not asking inquiries!
(5) Keep a paper trail
No matter if your purchase is within the permitted limits or not, make sure to save the receipts. In the unlikely event that the immigration officer has questions for you, this will enable you to sail through customs without incident.
Keep your receipts close by while you're doing this. Searching your bags at immigration is the last thing you want to do.
(6) To compare costs, use Duty-Free Buzz
Dedicated to providing educational and practical insights into the duty-free industry, Duty-Free Buzz is a global information aggregator of duty-free goods, costs, and other pertinent data.
It is one of the top websites for monitoring duty-free costs of well-known items throughout the globe and has frequently assisted me in making wiser judgments.
Follow Duty-Free Shopping Rules
Each country establishes its own laws governing customs and taxes. Even the rules can vary depending on where you are coming from.
For instance, residents of the United States are permitted to import up to 1600 USD worth of products duty-free from American Samoa, Guam, or the U.S. Virgin Islands. You are also permitted to import up to 5 litres of alcohol duty-free, giving your vacation a wonderful opportunity to load up on Caribbean rum.
Before making purchases from duty-free stores, review the laws in your native country
Top 7 Places for Duty-Free Shopping
If, after considering all of this, you decide to go duty-free shopping, some locations are preferable to others. The following is how I rank the top international airports for the best duty-free deals on well-known items:
Asia's duty-free shopping
Incheon International Airport
This South Korean airport is home to more than 90 designer clothing outlets, many of which offer substantial discounts. These include Burberry, Chanel, Louis Vuitton, Rolex, and others.
Make your duty-free purchases at local shops that will send your items to the airport for you to pick up to save time.
Alternatively, place your orders in advance and pick them up at designated locations across the airport. Beauty items, notably skin masks from well-known companies like Skin Food and Innisfree, are a unique category in Incheon.
Hong Kong International Airport
You might be surprised by the shopping options at Hong Kong International Airport if you're used to just seeing expensive items at duty-free shops.
Yes, there is no shortage of high-end goods; in fact, many duty-free aficionados arrange to be at the airport before the check-in time for their trip simply to shop.
However, you may also find an extensive selection of gadgets, casual apparel, and books. To be sure you're receiving a reasonable price compared to what you would pay in town, check out the airport's web price list.
Singapore Changi Airport
You'll discover some big bargains at this airport in Singapore, a city that is already well-known for its shopping. Look for genuine discounts on cameras, gadgets, booze, and cosmetics.
You may save time by using the online pre-order option at iShopChangi to concentrate on looking through the selection for unique finds.
Duty-free shopping at European airports
Reykjavk-Keflavk Airport
Both travelers traveling into Iceland and those departing have access to this duty-free store around-the-clock.
Look through the extensive range of Icelandic beer, sweets, and cosmetics; practically everything is 50% less expensive than what you'll pay outside the airport. Arriving passengers can purchase a bottle of Icelandic schnapps to sip in their hotel thanks to this combination of features.
Heathrow International Airport
With over 500,000 square feet of duty-free shopping, you're bound to discover a fantastic deal at London's Heathrow Airport.
Cath Kidston, Harrods, Paul Smith, and a Harry Potter store are among the British retailers and designers you should look for in Terminal 5.
Terminal 3 is where you can discover 40 high-end international designer names.
Charles de Gaulle Airport
It's hardly surprising that this airport in Paris is crammed with stores carrying the most well-known brands in the nation, like Chanel, Dior, Hermès, Yves Saint-Laurent, and Louis Vuitton.
Due to the duty-free prices, expect reductions of around 12 percent. You may also get French wine and perfume at a big discount here, and the size of the perfume bottle you bring is not a restriction.
Even cheeses and foie gras packed for import are available duty-free. (If you're thinking about importing food into your own country, find out what is permitted.)
Middle Eastern duty-free shopping
Dubai International Airport
One of the world's busiest airport retail areas is in Dubai. In the duty-free store, you can discover a broad selection of wine, cameras, cigars, cosmetics, watches, as well as all the well-known brands of gadgets, including computers and smartphones.
Dubai is a terrific destination to get gold at extremely affordable prices (in the form of chains, jewellery, watches, pens, and more), as well as oil-based perfumes like the well-known Arabian Oud.
Expect to receive savings of up to 25% if you go through the Dubai International Airport on December 20, the anniversary of its duty-free stores.
Additionally, duty-free stores frequently hold lotteries with rewards like cash and automobiles.
Knowing that the last leg of your travel will be easy and hassle-free when you depart the airport at your drop-off point with all the duty-free shopping bags is comforting. To travel in luxury and style to and from the airport, reserve a dependable Blacklane car service.
It is duty-free only for international flights
Duty-free and tax-free shops are found at the airport after security in the departure lounge or on the way to the gates.
Additionally, some airports include shops in the Arrivals section where you may make purchases.
While some nations let arriving foreign visitors utilize duty-free stores before departing the airport, the United States does not. Only at foreign airports of departure may returning Americans make duty-free purchases.
How much can I save when I do duty-free shopping at the airport?
All taxes apart, what about the real duty-free prices?
Well, that's where things become fascinating. Sometimes the tax-free portion rather than the total purchase price represents the savings.
Additionally, duty-free costs differ significantly depending on the nation and airport. Checking the websites of each duty-free store at the airports you'll be travelling to before your trip will allow you to compare pricing to the best advantage.
Smaller airports may not even have their stores listed digitally, but it's worth trying. To discover if your airport's store is mentioned, you may also begin your search on the Duty-Free Americas or Shop Duty-Free websites, but keep in mind that they will only show the stores run by each company and are not complete lists.
Tips for Saving More
When consumers hear "duty-free," they instantly envision significant discounts on upscale goods like perfumes, liqueurs, and cosmetics.
Additionally, duty-free shops do, in fact, provide large discounts on certain products. Duty-free shopping, however, is not limited to expensive items.
Savvy buyers may locate duty-free deals on various products, including gadgets and apparel. Here are some pointers for maximizing duty-free shopping.
Before you travel, do your homework. Learn what goods and at what cost are offered duty-free. This can assist you in avoiding splurging on things that may not be such a fantastic deal.
Benefit from duty-free allowances. Most nations let visitors enter the country with a specified amount of duty-free items without paying taxes or tariffs. Consider these allowances before making your purchases.
When you shop duty-free, don't forget to consider currency conversion rates.
Duty-free shops worldwide provide excellent savings if you're prepared and plan ahead.
My Opinion
The next time you find yourself at a busy international airport, think about browsing the duty-free section. Unless you smoke or drink, you should research before making a purchase.
Duty-free shopping may be a fruitful and satisfying endeavour. But it may also be quite disappointing. Remember the advice from above. They can make your overseas journey for shopping more enjoyable.
People Also Ask For
Q. Can you shop duty-free without crossing the border?
A. Tourists can buy last-minute necessities and presents from duty-free shops before departing the nation. Travellers have the chance to purchase at Duty-Free before leaving.
Q. Can you buy duty-free on arrival?
A. While some nations let arriving foreign visitors utilize duty-free stores before departing the airport, the United States does not. Duty-free shopping is only available to Americans leaving the country at international airports.