Planning a long weekend at the beach? And you are getting confused about what to take and what not? Then, I have the ideal solution for your beach vacation to make packing simple.
There's no need to worry; simply take your luggage out, read this list, and finish the task in no time. You seem at ease already, don't you?
It's wonderful that you don't need to bring a lot of stuff while going on a beach vacation. Just light and bright clothing; no clunky boots or thick jackets. Pack these items in a few minutes, and you'll be on your way in no time.
Most Recommended: Packing Tips for Traveling Abroad
Pack Lightly and Brightly
Pack light and pack bright are two guidelines to remember while preparing for a beach trip. Except for your beauty supplies and underwear, this list of necessities will see you through all but the fanciest social occasions, from breakfast to the beach and shopping to a night out.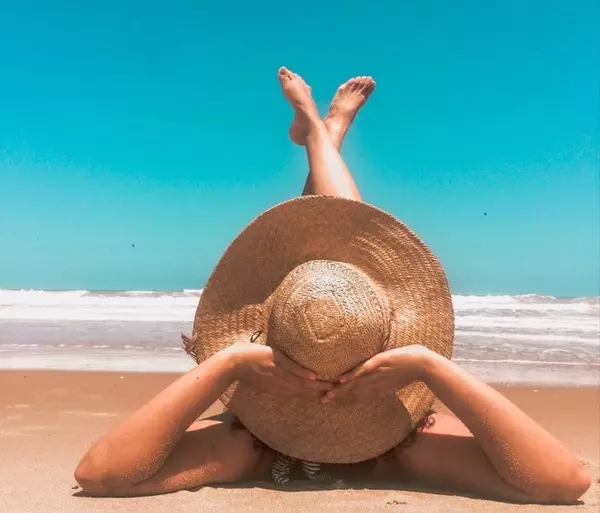 The items on the checklist should be simple to locate in your closet and can all fit into a tiny carry bag for any beach vacation. There's no need to haul your 25″ rolling suitcase around.
In addition to being simple and lightweight, think vivid when it comes to color. Fuschia, lime green, or hot pink are all strong hues that go well with the sun. Florals, polka dots, and stripes are excellent choices for beachy settings. Keep the gloomy attire at home for another occasion. Go large, bold, and colorful!
Beach Vacation Packing List for Family
If you are going on a beach vacation with your family, here are a few things I would suggest you include in your packing.
(1) An additional bag for souvenirs
It's simple to recall additional bags for damp clothing or accessories. Still, many individuals overlook the necessity of packing all of their gift-related items.
Trying to cram souvenirs into any available space may be made much easier with an additional tote bag or small duffel; both are simple to fold up and transport in a clothes bag or luggage.
CDC-Approved Cleaning Products & Accessories
Including cleaning tools, face masks, and hand sanitizer is crucial, especially in the modern world. These are the key goods to carry, while more necessities might be added to this list.
Carrying around disinfecting wipes may also be helpful for guests staying in a hotel or resort where door knobs are regularly handled. Pro tip: When leaving the beach, use them as wipes to remove sand from kids' hands!
A Waterproof Bag
A wet bag is something that families may want to think about if they anticipate spending a lot of time at the beach and in the water.
They can be easily obtained on almost any website that offers camping goods. Wet bags are made to protect anything damp inside (such as wet towels or bathing suits) while keeping the exterior totally dry.
The items can then be laundered or hung up to dry before returning to the hotel, resort, or rental.
Environmentally friendly or reef-safe sunscreen
While carrying sunscreen may seem obvious, many individuals fail to consider the possibility of choosing ecologically friendly sunscreen.
In Hawaii, anybody swimming is required to use reef-safe sunscreen, which is easily found in nearby shops.
Even if you aren't taking your family to Hawaii for a beach vacation, you should think about becoming greener so that you don't endanger the sensitive marine ecosystems where we swim.
Convenient Hamper
Regarding the wet bag, some families might consider bringing a foldable, portable hamper or laundry bag. Verifying is usually a good idea because some hotels may already provide this.
Even if one does not intend to wash laundry while on vacation, it is still wise to carry stuff along in case they don't. This idea is to keep clean and dirty clothing apart, making it simpler to organize everything once everyone gets home.
Portable Beach Games outside
Going to the beach is a fun pastime in and of itself. Most families bring equipment for building sandcastles and other structures.
While this is wonderful, it frequently isn't sufficient for older kids who could also be on vacation, which is why portable outdoor games were developed.
Games like Giant Jenga and Kan Jam, which are enjoyable for players of all ages, are easy to pack and carry to the beach. Additionally, playing them as a family is fun!
Gear & Snorkel Masks
Snorkeling equipment might be rented. However, it is often quite inexpensive and accessible. Snorkel masks are a terrific item to pack for families with enthusiastic swimmers, especially if the location is tropical.
Snorkeling equipment is simple for extensive underwater expeditions because it may also be utilized in clear lakes with shallow water.
DSLR Waterproof (Or Camera Case)
If waterproof camera costs are prohibitive, look into a waterproof phone or camera cover. Families that spend the majority of their time in the water can benefit from having a GoPro, which is relatively simple to buy at any electronics store or even online.
Beach Vacation Packing List for Female
We ladies have so many things to pack that we forget what to keep and what not to. Here I am telling you some things which should be packed in your bag.
Bikini or Swimsuit
It is a dream for a woman to go to the beach and wear a swimsuit or bikini there. To fulfill this dream, you must have at least 2 pairs of bikinis. So that if one gets spoiled, then you have the other. So that you can enjoy the beach.
Swim Cover Up or Sarong
If you are going to a beach and packing your belongings for it, don't forget to carry a swim cover along with the bikini. This will help cover you from shoulder to toe. Also, you can carry a sarong instead of a swimsuit
Shorts and Tops
You can also keep at least 2 to 3 pairs of shorts and tops for walking on the beach.
Dresses
Based on whether you prefer to wear dresses over shorts, I'd suggest you pack a minimum of two casual summer dresses.
Depending on your preferences, you could bring more dresses and fewer shorts, or vice versa, so adjust your beach trip packing list accordingly.
Additionally, if you want to eat in a fancy restaurant, you might want to pack something a little more formal.
Pants
Bring a pair of warm pants if you anticipate that the nights will get chilly.
Jacket
You should carry at least 2 to 3 jackets or a 3-in-1 jacket. This can protect you from the cold, rain, and strong cold wind.
Nightwear
One pair of pajamas is also necessary. You may get them washed if you stay more than a few days.
Slippers
Must carry at least a pair of flip-flops or slippers on the beach. Because you'll spend most of your time at the beach or pool.
Water Shoes
It could be a good idea to pack a pair of slip-on mesh sand shoes for your beach vacation to protect your feet from coral and stones, which can be common in some beach destinations.
Sun Hat
Well, a big sun hat to avoid sunburn on your skin. Ideal hats have a wide brim all the way around.
Beach towel
When purchasing a beach towel, I advise using one made of lightweight microfiber that dries rapidly. Another thing I like about it is that sand doesn't stick to it.
Packing List for a Beach Vacation with a Toddler
If you are going to the beach with a toddler/child/kid, there are a lot of things that you should keep in mind while packing the bag.
A Sun Hat
Sun hats are excellent for providing shade for little cheeks and ears. If your kids are restless, they'll always be attempting to yank off their hats and toss them into the water, so just search for one with an under-chin strap.
Floaties
I enjoy using them in one of three different ways at the pool or beach. However, they give kids a little bit more self-assurance and independence, which is why I appreciate them. And floating is sort of entertaining!
A baby's change of clothing
If you keep babies in damp swimming suits for too long, they often get rashes. Changing your baby into dry clothing before allowing them to snooze in a shaded area on the beach is a good idea.
Beach sandals
Every year, I forget how painful it is to walk barefoot on the scorching sand. Therefore, if you anticipate that your toddler may walk, have shoes for both of them. Water shoes are useful since they may be worn continuously.
Wipes and swim diapers
You will probably need to change your baby's diaper in the sand unless you live in a home by the ocean. Have an additional swim diaper on hand, some wipes, a wet bag or plastic carrier bag for dirty diapers or wet clothes, and all of these items available.
Sunscreen
Apply the cream before you leave in the morning, leaving one bottle in your room. Bring a second one with you in case you run out of it.
Mosquito repellent
Depending on where you like taking vacations, this. Although I've never required it, I am aware that certain beaches have mosquitoes or biting insects; so, if you are going somewhere where you will need it, pack this.
Shade
You should carry something that will provide shade so your children can take a break from the intense sunlight.
An item for seating
Just in case your infant or toddler provides you a brief respite, and you have a chance to relax.
Pacifier
Be sure to bring your baby's pacifier to the beach if they use one.
Toys
I don't like bringing a lot of toys since I constantly lose them in the surf, and they take up too much room in my beach bag. I've discovered that you don't need much to construct a fantastic sand castle.
Snacks
Pack some food and drinks in a small cooler for your toddler.
A way to carry everything you need
It's a good idea to bring a beach bag but I t would be fantastic to have a beach cart. I just cannot fit everything into a single beach bag. I've tried. The beach wagon completely changes the game. Beach carts are another option. I've never used one, but they appear to do the same task—move all of your equipment over the sand without hurting yourself.
Beach Packing list for Male
Introducing the ideal beach holiday checklist for men and a guide to the tropics. Enjoy these pointers for your upcoming trip to a pool party, yachting, or beach vacation.
For the day:
Jeans
Shorts
Tank
T-shirt
Casual dress shirt
Undergarments
Walking shoes
Belt
Boat shoes
For the evening (Social):
dress shirt
pants
belt
socks
dress shoes
cuff links
blazer
handkerchief
vest, tie, bow-tie, suspenders
Accessories (Sports equipment):
Sunglasses
Ha
Snorkel – Mask
Fins
Rash guard and/ or wetsuit
Book
Floating device
Water-bottle
Photography tech:
GoPro
GoPro Dome Port
GoPro surf accessories
Waterproof Phone Case
Anti-Fog inserts
Finally,
Make your own unique beach packing list using the items in these lists of what to bring. List the items you will need to bring to the beach by reviewing your daily schedule. Every day, get dressed from head to toe (in your brain), considering all weather conditions and potential travel difficulties. It's time to round up your travel companions, prepare and pack your luggage, snap one more pre-trip photo for social media, and depart on your lovely beach holiday break!
People Also Ask For
Q. What should you not forget on a beach trip?
A. Here are some of the things that shouldn't be forgotten:
Beach towel/blanket.
Beach bag.
Sunglasses.
Hat.
Flip flops.
Camera.
Sunscreen/after-sun.
Q. Can you bring a blanket to the beach?
A. Bringing a big blanket to the beach is a great idea. In this manner, you may use the blanket to lay on rather than the beach towels for drying off. Beach towels tend to be lighter than blankets, which makes it simpler to keep them flat on the sand.
Q. What do I need in my beach bag?
A. You should pack:
Sunscreen.
Sunglasses.
Bathing suit.
A good book.
Sandals.
Hat.
Change of clothes (top, bottoms, underwear)
Cell phone and portable charger.
Q. How do I keep my toddler busy at the beach?
A. You could:
(1) Take a kiddie pool.
(2) Construct a sandcastle.
(3) Write in the sand to practice.
(4) Make habitats along the coast.
(5) Gather seashells.
Q. Should a toddler wear a life jacket at the beach?
A. Children ages 0 to 5 should also wear a life jacket when near or in the water. This includes when they are standing on a dock or beach.