Uttar Pradesh is one of the largest states situated in the northern part of India. Gallantly called the heartland of India " it is every traveler's dream come true. With a juxtaposition of monuments, historical sights, pilgrimage spots and wildlife sanctuaries, it has carved a niche for itself as one of the most talked-about holiday destinations for wanderers all across the globe.
Aside from Varanasi and Allahabad, the two most formidable pilgrim sights and Agra that still bears testimony to the undying love between two heartbroken souls separated by death, many other places piques the curiosity of an ardent traveler hoping to catch a glimpse of India's glorious past.
We have selected some of the best places in Uttar Pradesh worth visiting.
Best Tourist Places in Uttar Pradesh
Here are the list of top 10 tourist places in Uttar Pradesh, the largest state of India in terms of population where you much visit.
1. Agra
Undoubtedly it tops our list as one of the best places to visit in Uttar Pradesh. The first thigh that comes to our mind when we speak of Agra is its iconic mausoleum Taj Mahal built by ShahJahan in memory of his beloved wife Mumtaz Mahal. This love replica is a testament to the undying love of couples all over the world. Declared a world heritage site by UNESCO, its unrivalled beauty has lured tourists from all over the world.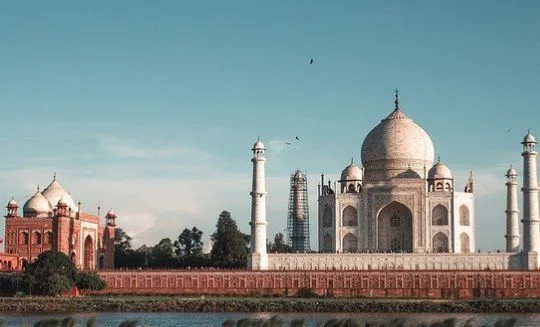 A trip to India is deemed incomplete without marveling at its wonder. Besides Taj Mahal, some of the other places worth visiting are
Agra Fort
Itmad-Ud-Daula
Chinni Ka Rauza
Mariam's tomb
Rambagh
2. Lucknow
The capital of Uttar Pradesh is Lucknow. It s a bursting city and home to a fusion of Islamic and British culture, architecture and culinary delights. The name Lucknow is an anglicized version of the local name "Lakhnau".This city together with Agra and Varanasi form a part of the Golden heritage arch of Uttar Pradesh.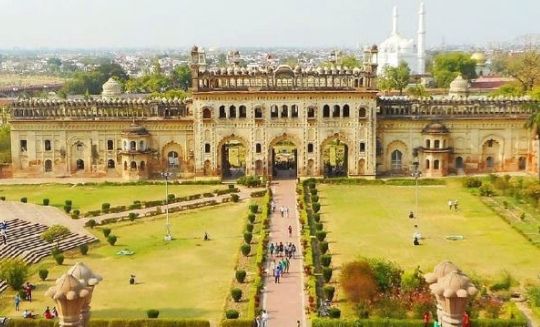 The local's vouch for its "Nawab, Aadaab, Kebab and Shabab". Its large legacy of Nawab has left its footprints in the form of extraordinary monuments that dot the city. Lucknow's cuisine and tehzeeb have put it on the global map of foreigners and locals alike. Some of the tourist's spots worth visiting in Lucknow are
Imambara
Rumi Darwaza
Kaiserbagh heritage zone
Residency
Also Read
3. Varanasi
Banaras owes its fame to being "older than history", older than tradition……" as reiterated by the English writer Mark Twain. It is the ultimate resting place for the Hindus hoping to attain salvation from the eternal cycles of birth and death. Due to its proximity to Sarnath, it is a pilgrimage spot for Jains and Buddhists. Apart from its spiritual aspect, it is living proof of its rich culture and architecture.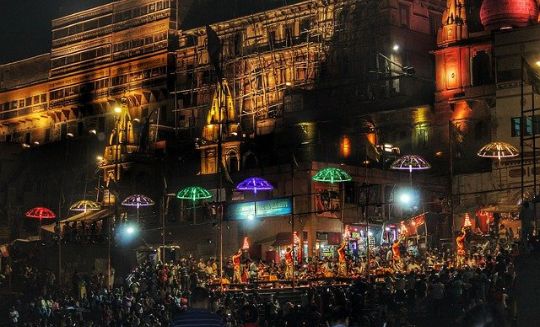 The best tourist places in Uttar Pradesh in the district of Varanasi are
Shri Kashi Vishwanath Temple
Banaras Hindu University
Durga Temple
Dasaswamedh Ghat
4. Mathura
No one can deny the rich cultural heritage of Mathura. Mathura attracts tourists from all over India and beyond by promising them a glimpse of its rich cultural heritage. Thanks to its fame of being the birthplace of Lord Krishna, it tops the list of must-visit tourist destinations of ardent Krishna devotees.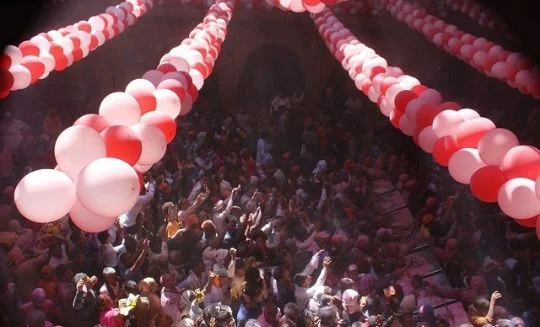 Its labyrinth of lanes and bylanes speaks volumes of its rich legacy. The city abounds in temples, monuments and ghats. Some of the noteworthy tourists' spots in Mathura are-
Sri Krishna Janmabhoomi Temple
Vishram Ghat
Kusum Sarovar
Govardhan Hill
5. Vrindavan
A visit to Mathura is never complete unless one undertakes to visit this twin city Vrindavan, located a mere 10 km away. Sri Krishna supposedly spent his childhood in Vrindavan along with his sweetheart Radha. Thus it comes as no big surprise that this city is dotted with hundreds of temples dedicated to Sri Krishna.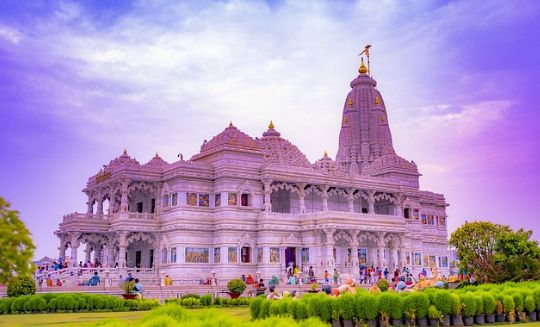 Situated along the banks of the Yamuna river, throngs of temples attract hordes of tourists every year. The noteworthy among them being –
Banke Behari Mandir
Prem Mandir
Radha Raman Temple
Iskcon Vrindavan
6. Fatehpur Sikri
Located just a few km from Agra this was the capital city of the Mughal emperor, Akbar. Now it enjoys the status of a world heritage site by UNESCO. This city was built in honour of Sheikh Salim Chisti. This city is a perfect blend of Indo-Muslim architect al splendour made primarily of red sandstone.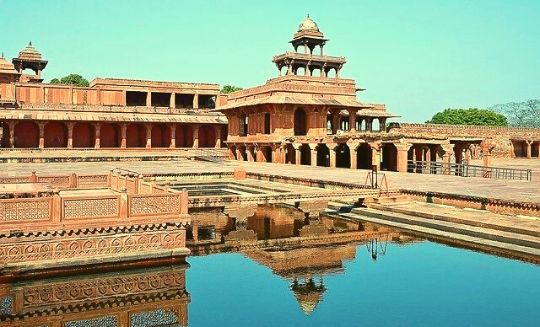 It looks stunning when the rays of the setting sun cast their final glow upon the magnificent
Jama Masjid
Diwan-E-Khas
Buland Darwaza
7. Allahabad
Renamed as Prayagraj, is one of the foremost pilgrimage spots for Hindus owing to the confluence of the three rivers Ganga, Yamuna and Saraswati. A dip at Triveni (the meeting point) is said to wash over our sins. The Kumbh and Mahakumbh Mela held after every six years and twelve years respectively draw lakhs of devotees from all over the world.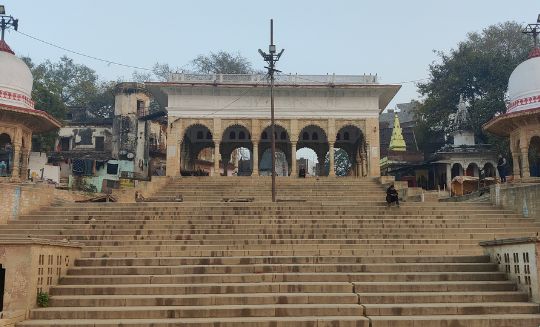 The following spots are the top draw for tourists-
Triveni Sangam
Khusro Bagh
Allahabad Fort
Patalpuri Temple and Akshaya Vat.
8. Jhansi
The two rivers Betwa and Pahunj snuggle the ancient city of Jhansi. The city owes its fame to this valiant queen Rani Laxmi Bai who put up a brave fight against the British. The folklore surrounding this heroic queen echoes through the walls of the Jhansi fort and Rani Mahal, two of the most frequented tourist spot.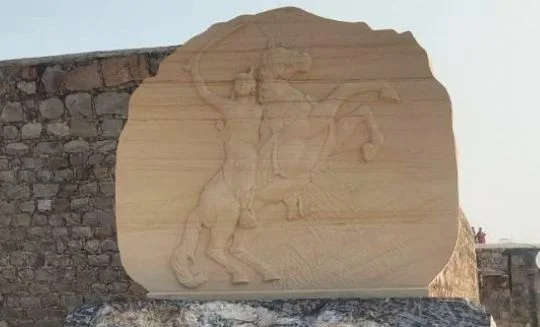 Light and sound show at the fort draws thousands of tourists every year to visit to relive the ancient past.
Jhansi Fort
Government Museum Jhansi
St Jude's Shrine
Rani Lakshmi Bai Par
9. Sarnath
Idyllically located a few km Banaras is the most sacred tourist spot for Buddhists. As the legend goes, Lord Buddha is said to preach his first Sermon to its disciples at Sarnath. Sarnath is also revered by Jains because Shreyamshamath, the 11th Tirthankara, breathed his last. There are numerous Buddhist stupas, monuments and temples throughout the length and breadth of this spiritual town.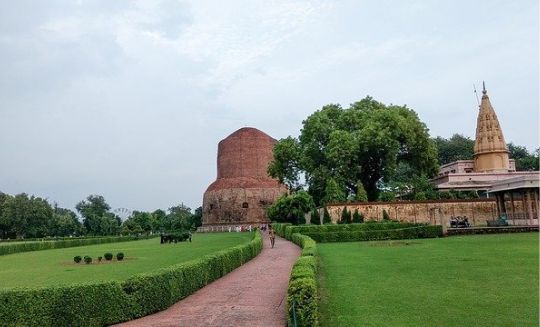 Thousands of devotees visit Sarnath every year during Buddha Purnima. Tourists spots worth visiting are-
Chaukhandi Stupa
Deer Park
Thai Temple
Tibetan Temple
10. Shravasti
Shravasti, a cultural paradise holds enormous significance to both Buddhists and Jains alike. Numerous monasteries from Thailand, Korea and Tibet are an architectural delight. Moreover, Shravasti happens to be the birthplace of the 1st Tirthankara of Jainism. True to its derivation " Sabbam atthi" meaning peace and prosperity, Shravasti has been the focal point of Buddhist teachings and numerous structures dedicated to Buddha.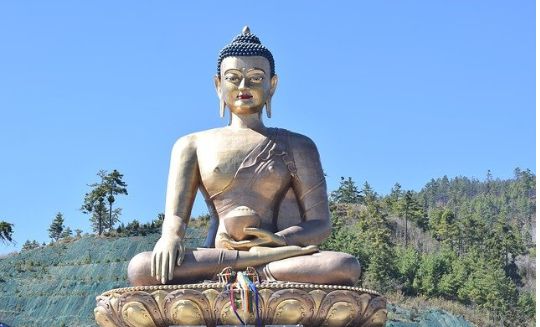 The top spots worth a visit are –
Angulimala stupa
Jetavana Monastery
Vibhuti Nath temple
Final Thought
We have captured some of the best places in Uttar Pradesh that draws a huge influx of travelers and pilgrims every year. With a treasure trove of monuments, sculptors, spiritual hubs Uttar Pradesh welcomes you all.
Frequently Asked Questions (FAQs)
Question 1. What are the best things to do in Uttar Pradesh?
Uttar Pradesh has always attracted adventurers willing to imbibe the spirit of India. It has a lot on its plate to cater to the whims and fancies of different tourists. You can either take a whole dip in Sangam or avail yourself of a boat ride on the river Ganga to witness the various Ghats dotted along the banks in Varanasi or see for yourself the splendour of Taj Mahal.
Question 2. What is the best time to go to Uttar Pradesh?
Tourists flock to Uttar Pradesh all around. However, the best time to visit Uttar Pradesh is between October to March. This is the time when the weather is just perfect with the right amount of chill signalling the advent of a harsh and cruel winter.
Question 3. How to plan a trip to Uttar Pradesh?
If you are travelling from abroad try to base all your travel plans on any one of the three cities- Lucknow, Agra or Allahabad. From there you can easily avail yourself of a rental car or a tourist bus to take you to the other locations. Else you can also take a direct flight to Lucknow.