Jodhpur popularly known as the Blue City is famous for its forts, temples, palaces, and this city has an ancient aura making you feel as if you are stepping back in time.
A city that is wrapped deep in Indian culture, offering you history, culture, beauty, delicious food making it an unforgettable experience.
So if you are looking for a tourist place in Jodhpur, Rajasthan to visit make sure to read this article till the end, as we have handpicked some of the best only for you.
Top 10 Places to Visit in Jodhpur, Rajasthan
Here, we will discuss the top 10 famous tourist places in Jodhpur,
Mehrangarh Fort
Mehrangarh Fort is also known as the Mehran fort is popular for its epitomizing royalty and glory and is one of the most beautiful forts in all of India.
It was built by Rao Jodha and has appeared in many Bollywood and Hollywood films including Batman The Dark Knight Rises, The Lion King, and Thugs of Hindustan.
The entrance of the fort is grand having a total of seven gates, named after the prior kings in the victory of the battles won.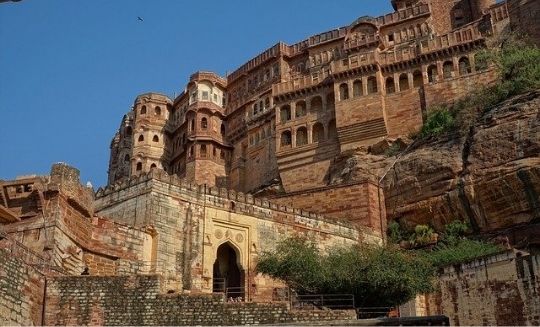 The intriguing carvings, big courtyard, mesmerizing history everything clasped together makes this place worth visiting at least once in your lifetime.
Mandore Garden
Mandore garden is famous for its big greener gardens, intriguing architecture, and royal cenotaph.
It has some main attractions like the lawns, Halls of Heroes, dedicated to around 33 crore gods, and a government museum.
The garden is decorated with some beautiful dewals, which ignites more beauty to the place made with an architectural sense of the Hindu temples.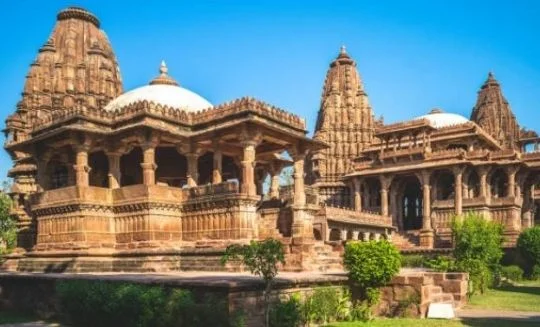 The Hall of Heroes is dedicated to the Rajput folk fighter as well as some different deities.
A government museum is a great place for people who are intrigued by the appearance and history of this garden and want to know more about this place.
One of the other places you can visit here is the shrines of three hundred million gods.
Jaswant Thada
Jaswant Thada is famous for its white marble cenotaph that attracts thousands of tourists throughout the year.
These cenotaphs have a beautifully maintained garden that you can explore and capture the scenic beauty.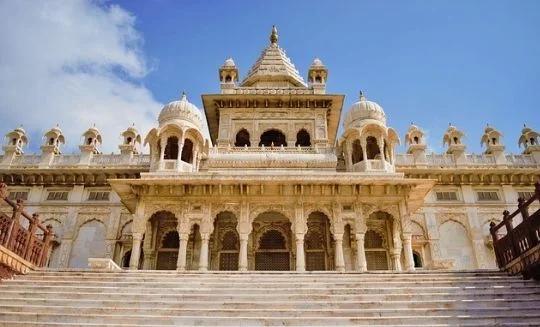 The artistry of the carvings on the marble are intriguing enough to keep you hooked, these carvings carved into a thin sheet of marble displays the excellent work and dedication of the craftsman of those times.
The overall structure of this place is very interesting and almost catches the attention of every person that sets foot here, so if you plan on visiting this place make sure to have at least two hours to spend here.
Flying Fox Jodhpur
Your tour of jodhpur will be incomplete if you don't experience this adrenaline rush activity!
The zipline tour marks the adventure you are never going to forget, everything looks different when you experience it from feet above.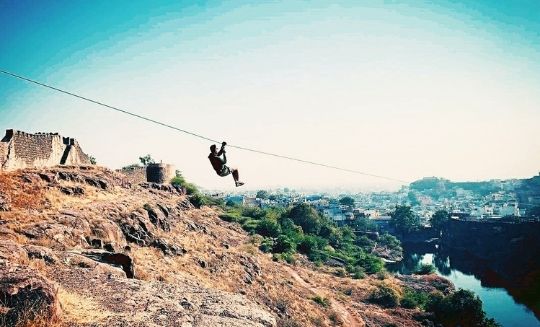 Doing this tour you cover the whole Mehran fort, the walls, lake, and the bastion of the fort.
First, you take a walk up the fort with a safety brief and a practice then the tour takes place, there is a total of six zip lines each covering different areas.
The experience is unforgettable and thrilling so if you visit Mehran once don't forget to try this sport.
Ghanta Ghar
Ghanta Ghar is a famous clock tower built right in the middle of this city acting as a key attraction for tourists and also having Sardar market another attraction.
This popular place actually acts as a mark signifying the start of old jodhpur and piques the interest of a lot of history lovers as this was built by the British and is one of the finest examples of British architecture.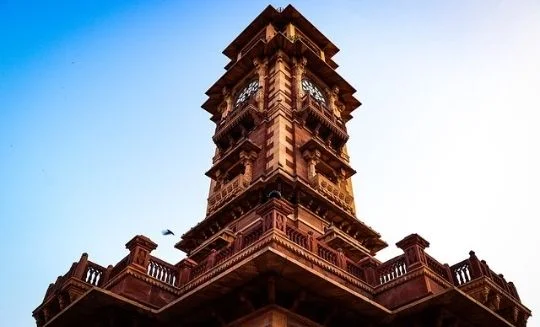 The panoramic view of this place is beautifully breathtaking.
If you want to experience the culture and food of this city a visit to the Sardar market is a must.
Kalyana Lake
Kalyan lake is a man-made huge lake that covers about 84 sq km of the place.
It was built by Maharana Pratap Singh and was used as the primary source of drinking water in those times.
This place offers a wave of peacefulness and a lovely view of the sunset, it is surrounded by babul trees, hills, and rock formation.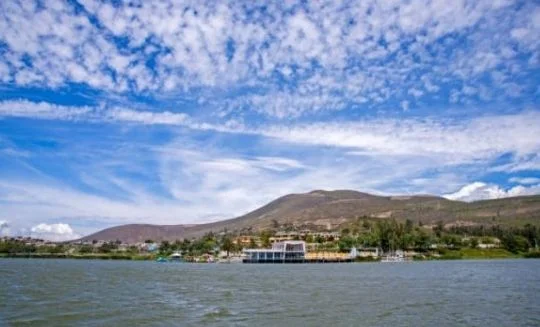 It is the best place to have a picnic and spend some time with your family just enjoying the view or bird watching.
From here you can have a trek and visit the Shiv mandir that is situated in the region.
Umaid Heritage Art School
It is an art school and art gallery in Jodhpur that is dedicated to the people that want to see and learn the traditional Rajasthani artwork.
You can visit this place to see the artwork or to learn some artwork like painting, charcoal work, sketching, and more.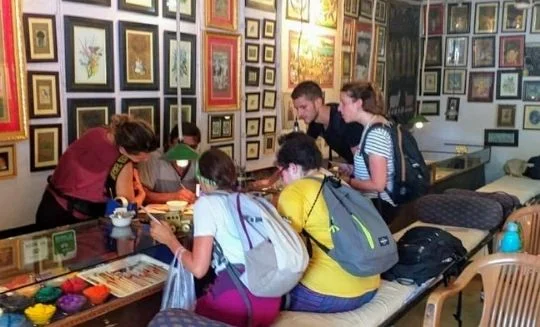 There is a vast collection of Rajasthani artwork that is applause-worthy and often piques the interest of a lot of foreign travelers.
There are free miniature lessons available by the artisans being offered to every tourist that visits this place.
Hanwant Mahal
Hanwant Mahal, which was earlier a hunting place for the kings is a five-star luxury hotel that lets you experience a royal dining experience.
The place was used by the kings for dining and drinking after their hunting expedition.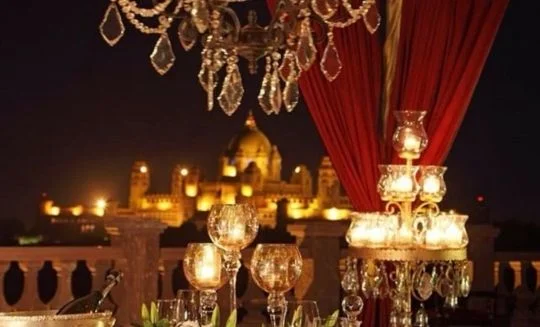 It is a three-story building often conducting dinner in their beautiful gardens that are filled with breathtakingly beautiful flower beds and big fountains.
The presentation of the mahal will make you feel like you are brought back to the reign of the king making you homesick for this ancient era.
Phool Mahal
Phool Mahal is one of the most intriguing and extravaganza places of the Mehran fort.
It was built by Maharaja Abhaya Singh for his personal leisure with design and style outshining the other royal architecture models.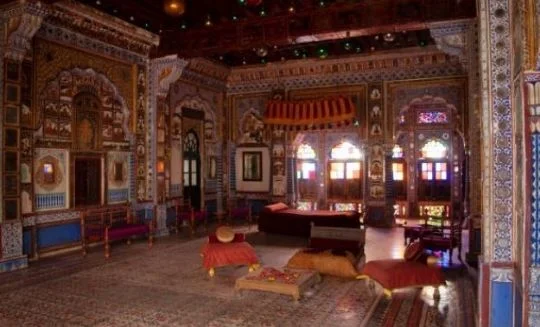 The hall of this mahal is decked with gold and the ceiling is carved with gold filigree.
It also has intriguing glass windows and mirrors catching your attention, and the walls adorned with beautiful paintings and portraits all dating back to the 18th century.
Visiting this place will make you feel how extravagant life was for the royals.
Rao Jodha Desert Rock Park
If you're visiting Mehrangarh Fort you should also visit Rao Jodha Desert Rock Park cause it is known as the gem of that place.
The place is originally known for its 250 species that live there and it lies underneath the Mehrangarh Fort one of Rajasthan's best for.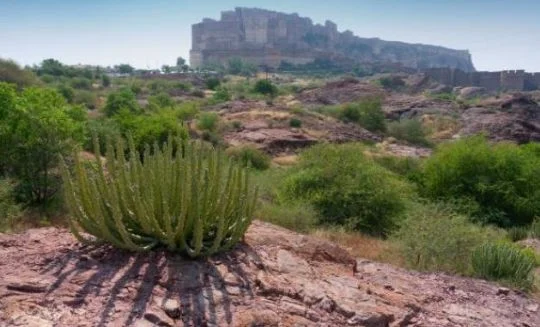 The park is a 72-hectare large area consisting of ecologically restored and arid land vegetation and was established in 2006 to research the natural ecology of the large, rock area adjoining and below the fort.
It has an Interpretation Gallery, a native plant nursery, a small shop, and a cafe. Red, green, blue, yellow are the four colored trails which are about 880m and 1115m long.
the visitors are allowed to take photos and can also get a trained guide and a naturalist to know more about the place.
Also Read
Frequently Asked Questions (FAQs)
Question1: What is famous in Jodhpur for Shopping?
Answer: Went to visit Jodhpur and didn't buy anything, so your going there is useless. You must buy Rajasthani Spices, Bandhej Fabric, Rajasthani Handicrafts, Jodhpuri Jutis, metalwork (jewelry, showpiece, furniture), and marble statues/paintaings.
These were a few of the best places that you can visit during your stay in Jodhpur.