Bihar, which historically served as the capital of one of the most opulent ancient Indian kingdoms, suffers from apathy when it comes to historical tourism in India, which is ironic.
We both agree that there are plenty of international visitors to Bihar, but they have all kept to a smaller number of locations in this traditionally wealthy state.
If we look, Bihar's history is thought to have origins in the early days of Indian culture. The state later prospered as the capital of grand empires like Magadh. Additionally, the state gave the world two significant religions: Buddhism and Jainism.
Over the years, Bihar transformed into a rich historical location with various cultures and traditions. What we see today are the delectable remnants of several empires' legacies. We might be able to uncover a priceless jewel from the Indian treasure trove if we are a little more willing to travel.
Also Read: Places you must visit in Tamilnadu When Visiting India
Want to know the best places to visit in Bihar? Without further ado, let's set out on our tour through Bihar's illustrious past:
8 Best places to visit in Bihar to add more color to your life
Here are a few places to see in Bihar,
Patna
Patna is the contemporary capital of Bihar, but it was known as Pataliputra in ancient India. It is also among the world's oldest cities in continuous human habitation.
ALso Read: Places to visit in Maharashtra for a Memorable Experience
Takht Sri Patna Sahib is one of the locations one must-see while in Patna.
Patna is well–known for being the city where Guru Govind Singh, the last guru of the Sikhs, was born. One of the main tourist attractions in Bihar is Didarganj Yakshi.
Gaya
Gaya is a thriving city located on the Phalgu River's banks and one of Bihar's most incredible tourist destinations because of its profound religious significance. This location is considerably more fascinating for tourists and believers due to the legend that Lord Buddha attained enlightenment here under the Bodhi tree.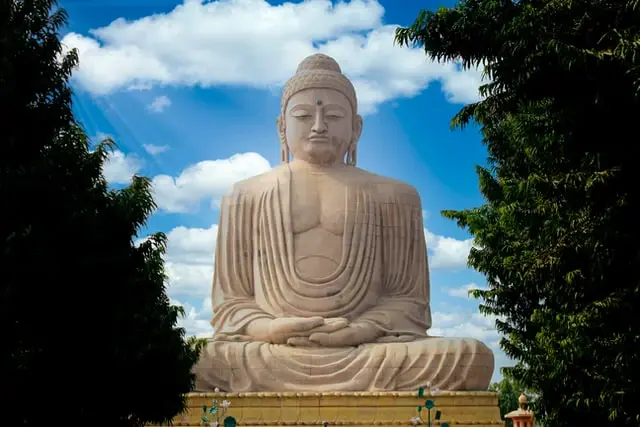 The city has earned a position in Hiuen Tsang's travel writings because it is home to revered Hindu temples, well-known Buddhist sites, and ancient Mauryan-era buildings. 
Bodhi Tree
This Tree is roughly 100 kilometers from Patna. Since Buddha attained enlightenment beneath this tree, Buddhists worldwide traveled there as pilgrims.
Its location has been recognized as a World Heritage Site by UNESCO. The Maha Bodhi Temple, revered by Buddhists, can be found during your visit to the Bodhi Tree. The temple's design exemplifies the elegance and wealth of Indian architecture.
Nalanda
Nalanda, a key location in Bihar, is home to one of the nation's oldest institutions. This location is a well-known tourist destination since it is a perfect reminder of the thriving Pala and Gupta era.
Furthermore, it is even alleged that Buddha gave teachings in Nalanda, close to the mango grove. This educational establishment is so well-known that Chinese explorer Hieun Tsang paid a visit and resided there for more than two years.
Vaishali
Vaishali is undoubtedly a very important archaeological site. It once served as the seat of the Licchavi emperors.
Since Lord Mahavira, the very last Jain Tirthankar, was born there, this location gained considerable notoriety. In addition, Vaishali was a very affluent kingdom during Buddha's lifetime.
The place is also renowned for the stunning courtesan Amrapali. If you want to visit this magical location, you can see several well-known tourist destinations, including the Relic Stupa, Kundalpur, the Coronation Tank, and many others.
Munger
Another well-liked destination you might think about visiting in Bihar is Munger. The origins of Munger go back to the Aryans. In place of their town, they called this area the "Midland." As the location of the Bihar School of Yoga, Munger is a highly well-known name among yogis. 
Vishwa Shanti Stupa, Rajgir
Rajgir's Vishwa Shanti Stupa is renowned for being known as the World Peace Pagoda. It stands majestically in Rajgir's old city. This Stupa, also known as a Peace Pagoda, is one of seven in India.
This makes it a must-see location in the state of Bihar. The pagoda, which was constructed in 1969, promotes nonviolence and peace. It is distinguished by four magnificent Buddha statues representing the four stages of the Buddha's life: birth, knowledge, preaching, and death.
Barabar Caves, Sultanpur
The Barabar Caves situated in Sultanpur are said to be the country's oldest rock-cut caves. These caves are spectacular to look at and return to the Mauryan Empire. This is precisely why they are a must-see when in Bihar.
Nagarjuna and Barabar, two twin hills, are where the caverns are situated. The Ajivika sect is rumored to use both of these caverns. However, the caverns also include a staggering amount of evidence of Jain and Buddhist art. Barabar caves have four caves, compared to three in the Nagarjuna caves. Additionally, each cave has a beautifully polished pattern, and its walls and ceilings are covered in inscriptions.
Picturesque Hill Stations in Bihar
It would be best if you visited these 5 hill stations in Bihar,
Brahmajuni Hill
Brahmajuni Hill, a location of ancient temples, will draw you in with its breathtaking views of the verdant green meadows and the Vishnupad Temple.
The Brahmajuni Hill is a hill in the Gaya district of Bihar, 1 km southwest of the Vishnupad Temple. You can explore some ancient caverns in the Brahmajuni Hills, where fascinating carvings have been etched on the stone walls.
Ramshila Hill
The Ramshila Hills are the most revered in Gaya and are located 5 km from the Vishnupad shrines. An amazing temple from antiquity that was constructed in 1014 AD is perched atop the hill.
Later, it underwent numerous restorations and repairs. On the occasion of Pitripaksha, devotees offer Pandas to their ancestors in a pavilion constructed in front of the temple.
Pretshila Hill
The Pretshila Hill is approximately 10 kilometers from Ramshila Hill and offers views of Gaya and the lovely Brahma Kund. You shouldn't miss the historical Ahilya Bai temple on the hill since it features stunning architectural designs.
Pragbodhi
Pragbodhi, also called Dhungeswara, is a revered location. Pragbodhi is the most popular destination in Bihar and is situated close to Kiriyama Village. It is said that Lord Buddha stayed there before becoming enlightened.
Gurpa Peak
The Gurpa Top is a mountain peak close to the Gurpa town and is thought to be sacred and ideal for meditation. At Gurpa Peak, there are a few ancient Hindu and Buddhist shrines.
Maha Kassapa, the Buddha's successor, is supposed to have meditated on the hill, giving the location great historical significance.
Historical Monuments of Bihar
List of most famous historical places in Bihar,
Hieun Tsang Memorial Hall, Kundalpur
Another exciting location in Bihar is the Hieun Tsang Memorial Hall in Kundalpur. As the name implies, it was created in honor of the famous Chinese explorer Hieun Tsang.
Hieun Tsang is thought to have visited Nalanda in Bihar in the fifth century AD. Tsang seemed so taken aback and charmed by the location that he decided to stay here for an incredible 12 years while studying and instructing.
Sher Shah Suri Tomb, Sasaram
In honor of Emperor Sher Shah Suri, the Sher Shah Suri Tomb in Sasaram was constructed in 1545. This tomb is undoubtedly a superb representation of Indo-Islamic architecture in the nation.
If you're ever in Bihar, you should pay a visit to this magnificent sandstone tomb built smack in the middle of a lovely man-made lake. 
Takht Sri Patna Sahib
Constructed on the banks of the Ganges river in honor of Shri Guru Gobind Singh, the Takht Sri Patna Sahib is a stunning, expansive gurudwara.
Maharaja Ranjit Singh erected the gurdwara in the 18th century as a sign of adoration and reverence for his guru. One of the holiest and most precious sites in Bihar is this gorgeous shrine with its distinctive white façade.
It is constructed in the traditional Sikh manner, with elaborate construction, a large amount of open space, interwoven windows and arches, and other features. The Takht Sri Patna Sahib is the second Takht among the Five Takhts of Sikhism.
Mahabodhi Temple
The most significant Buddhist temple in the world is possibly the Mahabodhi Temple at Bodh Gaya. It is situated precisely where it is thought that Gautama pondered, obtained moksha, and evolved intoBuddha.
A magnificent shrine has been built to commemorate this historic occasion, but a Bodhi tree beneath which the Buddha once meditated has been left unaltered. The 4.8 hectares that make up the Mahabodhi Temple are 55 meters high.
King Ashoka constructed the first iteration of this temple, which has since been upgraded with a larger, more complex design. It has a stunning black stone and gold Buddha statue that is visible within.
Thai Monastery
The majestic Thai Monastery, founded in 1957 with the help of the Thai government and Buddhist monks, aspires to spread Buddhist teachings.
The Monastery's design, practices, and rituals thoroughly understand the diverse Thai culture.
The temple has a magnificent roof with a curving slope and golden tiles. A 25-meter-tall, elaborately sculpted bronze statue of Lord Buddha is also kept at the Thai Monastery and is located in the temple's garden.
In the Monastery, numerous carved representations of Lord Buddha, Buddhist artifacts, and Buddhist symbols are also on exhibit.
National Parks and Wildlife Sanctuaries in Bihar
These National parks in Bihar will fill you with adventure.
Valmiki National Park
This national park in Bihar is the country's longest grassland found in the Valmiki National Park, Tiger Reserve, and Wildlife Sanctuary.
The Park is situated in Bihar's West Champaran District, which spans the border between India and Nepal in North-East India. Valmiki Park is situated on the banks of the beautiful Gandak River.
The Valmiki National Park is Bihar's only National Park, yet it is one of the most famous in the country, with a large population of flora and fauna. In this National Park, you may find 7 distinct types of landscapes, including thick forests, swamps, rivers, valleys, and much more. 
Kanwar Bird Sanctuary
One of Bihar's most stunning tourist destinations, the Kanwar Bird Sanctuary is home to the biggest freshwater oxbow lake in the entire continent of Asia.
The Park, which has a land size of 63.11 sq. km, was created in 1987 to safeguard the regional species and ecosystems. This vast refuge is home to more than 100 migratory bird species and native birds.
On the Park's grounds, you can also see a variety of small animals, including squirrels, foxes, langurs, and more. Birdwatchers, nature enthusiasts, and serious photographers will find it the most excellent location.
Vikramshila Gangetic Dolphin Sanctuary
The endangered Gangetic dolphins were the reason this unique reserve was created in 1991. The Vikramshila Gangetic Dolphin Sanctuary is located in the middle of the Ganges, with Sultanganj and Kahalgaon Hill serving as its limits.
Along with protecting dolphins, the sanctuary also strives to preserve catfish, anchovies, roofed turtles, croakers, flap shell turtles, tent turtles, and other vulnerable species. These are just a few of the sanctuary's 135 protected species.
When you visit this magnificent refuge, you may see lovely dolphins, other fish, and creatures. The greatest time to travel is between June and October when the region experiences the least rainfall.
Sanjay Gandhi Biological Park
The Sanjay Gandhi Botanical and Zoological Garden opened to the public in 1973, and being the 16th-largest zoo in India, it receives thousands of visitors daily. On its 152.95 acres, Patna's biological Park is home to more than 300 different tree types and over 110 different animal species.
Over 800 animals live alongside one another in a setting that resembles their natural habitat. People interested in wildlife travel to Patna to see these well-known tourist attractions.
People can view numerous animals in distinct rooms, including the Saap Ghar (snake house) and the Machhali Ghar (Fish House) for fish. A regular Zoo Education Program is also held to raise students' knowledge.
Kaimur Wildlife Sanctuary
The Kaimur Wildlife Sanctuary, known as the largest wildlife sanctuary, is undoubtedly one of the best sites to experience Bihar's wildlife. The sanctuary, which has a sizable territory spanning the two provinces of Mirzapur and Sonbhadra, is much more than just a straightforward woodland region.
It is home to a variety of terrain types. The sanctuary's valleys are home to several waterfalls, and its caverns are rumored to contain prehistoric cave paintings.
Over fifty native bird species and a wide variety of mammals like tigers, leopards, antlered animals, and bison are found in the temperate woods made up of bamboo, sal, and Palash trees. The refuge is known for hosting the oldest Fossil Park in the nation.
Haunted Places in Bihar
Siwan Kabristan, Near the Barharia Jamo Road, Siwan
Haunted House, Near Lohia Nagar, Patna
Patna-Aurangabad RoadQilla House, Patna
Kasturba Gandhi Balika Vidyalaya (School), Patna
Haunted Flat, Bhagalpur
Kureri Killings, Rajapakar
Sadar Kabristan, near the Motihari Bypass
Railway Quarters, Patna
Adventurous Things to Do in Bihar
Kayaking River – Ganga
Paramotoring – Patna
River Rafting – Valmiki Nagar
Hot air balloons – Patna
Hiking to Vishwa Shanti Stupa
Trekking to Rajgir
Go Karting – Patna
Jeep Safari – Valmiki Tiger Reserve
Scuba diving – Patna
Funtasia Water Park – Patna
River Cruising – Ganga
Elephant Safari – Valmiki Nagar
Jungle Safari – Udaypur Wildlife Sanctuary
Waterfall – Telhar
Waterfall – Tutla Bhawani
To Conclude,
You can see that Bihar is a mash-up of various cultures, traditions, cuisines, and languages. Although Bihar is now under the weather, it is a wonderfully magnificent place with a rich history that we can help reach new heights.
To achieve this, we must spread awareness of this state and maintain an open mind to all travel elements. Therefore, the next time you consider going on vacation, you should consider Bihar as the top destination that can ensure you have a wonderful time for however long you intend to travel.
Frequently Asked Questions (FAQs)
Bihar is famous for which thing?     

Many tourist destinations in Bihar are well known, mainly historical and religious landmarks representing Sikhism, Jainism, Hinduism, and Buddhism.

Bihar is renowned for its unparalleled significance of history, whether through its art culture or the ancient ruins.

Bihar was also home to one of the world's largest and first universities.

In addition, Bihar has been drawing enormous numbers of tourists from around the world to the biggest livestock fair, the "Sonepur Fair."

Is there any beach in Bihar?

No, there aren't any beaches in Bihar.

What can I buy in Bihar?

Bihar is highly known for its indigenous art forms that exhibit skilled craftsmanship, such as applique work, Madhubani paintings, beaded jewelry, and miniatures made from leaves.

With its regular flurry of consumers and traffic, Bihar is the greatest place to shop for all of these and more intriguing products.