The favorite destination of every traveler to visit, Ladakh has a lot of places for nature lovers and adventure seekers to explore.
Ladakh is one of the most graceful and heavenly places in India. It is the largest and most sparsely populated union territory of India. Before that, it was located in the state of Jammu and Kashmir. It was established as a union territory in 2019.
It shares its boundaries with Pakistan and China and stretches from Siachen Glacier, located in the Karakoram range, to the Great Himalayas.
The name "Ladakh" is formed by the combination of two words, 'La' and 'Dhak,' which means 'Passes' and 'many' or 'numerous' respectively, titled the place "The Land of High Passes." Also surrounded by beautiful landscapes, it is also called the world's coldest desert.
Most Recommended: If you want to Visit Hill Station in Low Budget then you Must visit Uttarakhand
Geographically, Ladakh is the most elevated plateau in India at over 10,000 feet. Buddhism is the most followed religion in Ladakh. The Classical Tibetan or Ladakhi language is widely spoken there.
Ladakh has two main districts: Leh and Kargil. Many tourists visit the Leh district as there are many monasteries present there, and the main market truly defines the local taste of the place.
Most Recommended: Best Hill Station in Himachal Pradesh
10+ Best Places to Visit in Leh-Ladakh
Here, I am sharing some best places to see in Leh Ladakh,
(1) Shanti Stupa
Shanti Stupa is located in Chandspa, a village in Leh district, Ladakh. It is a white-domed stupa built by the Japanese Buddhist Bhikshu, Gyomyo Nakamura. Shanti Stupa sustains the antiquities of Buddha set forth by the 14th Dalai Lama.
It is one of the most beautiful places to visit because of the presence of spiritual essence in the atmosphere with the captivating scenery all around.
The stupa is open for visitors between 5:00 AM to 9:00 PM.
(2) Leh Palace
One of the most historical and beautiful places to visit in Leh, the full name of Leh Palace, is Lachen Palkar Palace. The palace is a nine-storeyed building having stables and store rooms on the lower floors and upper floors for the family. At present, the palace is perishing, but its interior decoration still persists.
The palace also has a luxurious museum that has a wealthy collection of jewelry, crowns, royal dresses, and many more things. The Tibetan paintings are enshrined with gems and stones to the present date.
The palace is being rehabilitated by ASI, Archaeological Survey of India. The palace is open to everyone, and one can witness the scenic beauty of Ladakh from the top of the palace.
(3) Namgyal Tsemo Monastery
Situated near Tsemo Castle, Namgyal Tsemo Monastery, or Namgyal Tsemo Gompa, was built by King Tashi Namgyal of Ladakh in the year 1430.
This Buddhist monastery is located in the Leh district and has a three-storeyed high golden statue of Maitreya Buddha, manuscripts, and frescoes. This place is another perfect blend of spirituality and remarkable views all around it.
(4) Zorawar Fort
Zorawar Fort is located in the Leh district, just 6-7 minutes away from Leh Palace. It was constructed in 1836 and preserved the wealth of rulers of the Dogra Dynasty and has a museum that keeps the record of the treasure of that time, including coins, stamps, etc.
The light and sound show is very famous here and was created by the Indian Army in 2006. This show makes the environment quite relaxing and peaceful.
(5) Kyago Tso
Kyagar Tso, also named Kyagar Lake, is another one of the most beautiful places to visit in Ladakh. It is a brack water lake bounded by mountains, giving it a captivating view. From a distance, one can identify the lake by its turquoise color.
The elevation of the Kyago Tso is about 5,000 meters above sea level. Many bird species are observed here, keeping the lively environment.
(6) Khardung La Pass
Khardung La Pass, also called Khardzong La Pass, located in Ladakh, is an apex mountain pass of the region. Basically, this Khardung La Pass is an entrance to the Shyok and Nubra Valleys. This pass is famous because it is the highest accessible road in India, with an elevation of 5500 meters.
This place was built in 1976 and was made public in 1988.
This is the best place to visit for adventure seekers and mountain biking enthusiasts.
Tourists must get an inner line permit to travel to this place. The route to Khardung La Pass gets restricted due to heavy rainfall and snowfall from October and May.
So, the best time to visit Khardung La Pass is between April and October. The temperature of this place ranges between 21 degrees Celsius and 7 degrees Celsius.
(7) Magnetic Hill
The best time for visiting the place is between July and September.
It's an interestingly gravity-defying hilltop and tends to move upside down when the vehicle is parked at a particular place.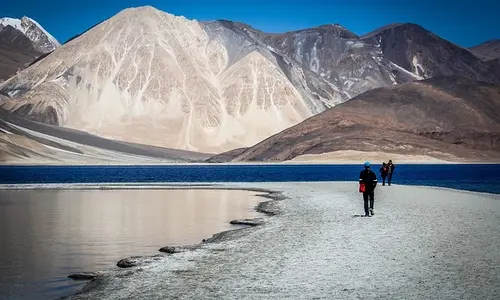 To explore this phenomenon, you have to park the vehicle in neutral gear in the yellow box allotted a few distances prior to the Magnetic Hill road. From here, your vehicle will start moving at a speed of about 20 Km/hr.
Due to the occurrence of an optical illusion because of the surrounding hills and the configuration of the area, the downhill road appears as an uphill road which results in an increase in momentum. It's believed that the vehicle is moving against gravity, which is actually rolling downhill.
Some of the other beautiful places to visit in Ladakh are
The Sangam
Chadar Trek
Spituk Monastery
Likir Monastery
Alchi Monastery
Popular Wildlife Sanctuaries and National Parks in Ladakh to visit
As with the distinctive topography of the Ladakh region, the exclusive and rare species of flora and fauna existing there make it an exotic wildlife destination. Mainly, the vegetation of Ladakh is identical to that of Tibet.
(1) Hemis's National Park
Hemis's National Park is the largest national park in India, which occupies an area of about 4400 sq. Kilometers.
This national park counts for the largest population of snow leopards in any protected area of the world and is highly famous for wildlife tourism.
The park is home to 15 and 73 species of mammals and birds, respectively. Some of those are Asiatic Ibex, Argali, Red fox, Himalayan snowcock, Blyth's swift, etc.
July to October will be the best time to visit Hemis National Park.
(2) Karakoram (Nubra Shyok) Wildlife Sanctuary
Karakoram Wildlife Sanctuary is located in the Leh district at a high elevation. This park has a rich collection of medicinal herbs, of which 15 species are considered rare and endangered.
This wildlife sanctuary is home to very unique species of birds and animals like the Tibetan Antelope, Wild Yak, Lynx, Himalayan Mouse, Tufted Duck, Golden Eagle, etc.
The best time for visiting the Karakoram Wildlife Sanctuary is between May and October.
(3) Changthang Cold Desert Wildlife Sanctuary
This wildlife sanctuary is on the Changthang plateau, Ladakh. This sanctuary has around 200 species of wild plants.
Popular birds and animals present here are Brahminy Ducks, Dark-necked Crane, Brown-headed Gulls, Kiang, Tibet Gazelle, Tibetan Wolf, Snow leopards, and Wild Yak.
To visit this Sanctuary, you need to get permission before from the District Magistrate of Leh.
June to October will be the best time to visit the Changthang Cold Desert Wildlife Sanctuary.
Hidden Places in Ladakh/Off-Beat Places in Ladakh
Turtuk
Turtuk is the northernmost village in Ladakh. The panoramic view of the village, bounded by the Karakoram ranges, gives scenic views of mountains, valleys, and cold-deserted landscapes. It is one of the best places to visit Ladakh if you want to know the local culture of the village. The food, market, the friendly nature of the villagers there will give you memories for life.
Lamayuru
Lamayuru is another small village located in Ladakh. It has been titled a "moonscape" by travelers because of its unique topography. One of the oldest monasteries is situated in this village.
The reason behind this unique topography of this village is that the scholar who lived in this monastery had prayed to dry up the lake, which resulted in the formation of moon-like crates.
Panamic Hotspring
The Panamic Hotspring is located in the Panamic village of Ladakh. This hot sulfur spring is known to have medicinal properties that can prevent diseases like Rheumatism. One can capture the magnificent views of the Himalayas and valleys from here. Its altitude is about 10,000 feet from sea level.
Stok village
Stok village is one of the best places to visit in Ladakh and experience the rich culture and heritage of Ladakh. Stok Monastery was constructed in the 14th century and had a tall statue of Gautam Buddha, consecrated by the Dalai Lama.
Chumathang
Chumathang is located about 140 kilometers away from Leh. It's an undiscovered place with the presence of natural wonder; the hot water spring is unknown to many tourists. You can enjoy a hot water bath and take stay at various guest houses available there.
Mesmerizing Valley in Ladakh
Here come the most beautiful valleys located in Ladakh to have an enthralling experience and witness the most captivating views you have ever seen!
Markha Valley
This valley is located near the Markha river and about 35 kilometers away from the main city. The best time to visit the place is from June to September.
This valley is best for camping purposes. The starry night, river, and snow-capped mountains will give you the most cherishing moment of your life.
Nubra Valley
This valley is located in the Nubra tehsil of Ladakh and is around 135 kilometers from the city. This valley is a perfect blend of adventure, peaceful views, royal places, and the gompas. This valley is loved by every tourist. One can enjoy a double-humped camel ride and an ATV ride. The best time to visit this place is between June and September.
Zanskar Valley
Zanskar Valley is located in the Kargil district of Ladakh. The distance from the city center to this valley is about 460 kilometers. It's the highest valley at an altitude of about 13,000 feet.
This place is worth visiting if you are an enthusiastic trekker. This place holds awesome views during the summer season, while in winter, it is closed because of heavy snowfall.
So the best time to visit this place is between the months of June to September.
Other magnificent valleys are-
Dha Hanu Valley
Ripchar Valley
Indus Valley
Dras Valley
Major Activities to do in Ladakh
(1) Hunder
At Hunder, the ride on double-humped Bactrian Camels in the sand dunes will give captivating views of Shyok and the Nubra River. Once, it was the only way to travel. You can enjoy the ride in the months of June to September. It will cost around ₹200/- per person.
(2) Hemis's Festival
Witnessing the Hemis Festival is a must to visit while traveling to Ladakh. The Chham Dance is very popular; the exuberant clothing and attractive masks will surely magnetize your spirit to see it. It symbolizes the victory of good over evil.
The festival is celebrated in Hemis Monastery with great zeal and enthusiasm in the month of July.
(3) Khardungla Pass
Enjoying Maggi at one of the most elevated passes in the world is an adventure in itself. The best time to visit this tallest cafeteria in the world is between April to June and September to October. It costs around ₹500/-.
(4) Adventurous roads
A trip to Ladakh is incomplete without driving the bike on one of the most motorable roads in the world, surrounded by mountains. Driving to the Khardung- La pass will truly give you adventurous vibes, which are at the height of 5,500 meters.
(5) Spituk Gompa Trek- Adventurous Expeditions
Zanskar Valley- River rafting enthusiasts
Chadar trek – trekking lovers
Donkey sanctuary- must visit
Drang Drung Glacier-For thrillers
Gurudwara Pathhar Sahib- feel peace!
Points to Remember While Traveling to Leh-Ladakh
There is no need for Indians to take Inner Line Permission from August 2021.
Visitors have to pay an environmental fee or green fee of ₹300/- and a Red Cross Fund fee of ₹100/-.
Foreign visitors should obtain a Protected Area Permit (PAP) or Restricted Area Permit (RAP).
Indian visitors should carry their valid ID proof during the journey.
You should carry enough cash with you since there is no surety of getting ATMs in working condition due to weather and poor power conditions.
People Also Ask For
Q.1) What is the best time to visit Leh-Ladakh?
Answer- As it is a cold region, summer will be the best time to visit there, in the months of April- September. It gets closed during the winter because of extremely low temperatures.
Q.2) How to reach Leh-Ladakh from Delhi?
Answer- You can use any mode of traveling, whether it is by flight, bus, or self-driven vehicle, easily. The train is not directly accessible to Ladakh; instead, it is from Srinagar.
Q.3) Is Leh-Ladakh open for tourists now?
Answer- At the time of summer, it's open to all. Just in winter, it remains closed because of extremely low temperatures and heavy snowfall.
Q.4) How many days are needed for a successful trip to Leh-Ladakh?
Answer- A minimum of 7-10 days are required for visiting every place in Leh-Ladakh. But if, for someone, the given time is less, extending it to 15 days is enough.