I recently went camping for the first time and struggled to find the appropriate attire. I tried doing some research online but ended up with nothing. So, I created a comprehensive guide on what to wear; part of it is based on my personal experience and the rest on research.
What to Wear When You are Going Camping or Hiking
Summer is an excellent time to get out into nature and begin hiking. However, trekking in the summer might mean being outside in extreme heat, so it's important to consider what to wear hiking in the summer. Of course, you want to keep cool and prevent overheating.
Also Read: List of things to pack when camping solo
However, protecting oneself from sunburn and unpleasant summer mosquitoes is also critical. So, how can you ensure you've dressed appropriately for hiking in the heat? I've put up this handy hiking gear guide to help you figure out what to wear on your next trip this summer.
What to Wear When Camping in the Summer -Women
(1) T-Shirt
The MOERDENG Women's Short Sleeve UPF 50+ T-shirt is made for jogging and working out since it swiftly absorbs sweat and releases it into the air. The cloth is silky and smooth on the skin.
Also Read: 11 reasons why you should go car camping this weekend
To prevent chafing, it includes flatlock seams and printed tags. It features a tight fit but is also supple and flexible, allowing you to move freely without feeling constrained. Finally, it features UP 50+ protection so that you may wear it in the summer or as a base layer in the winter.
(2) Stretchy, Lightweight Shorts
When it comes to shorts, UPF-protected shorts will protect you from the sun's damaging rays and keep your thighs from burning. Your hiking shorts must also be breathable and supple enough to allow you to move freely.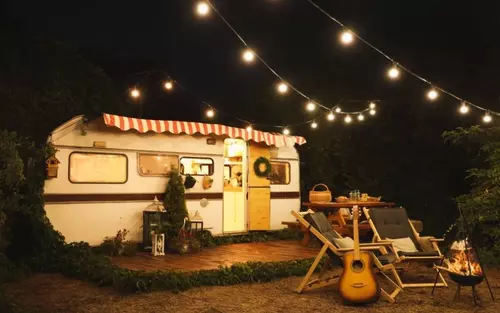 Zip pockets are another feature I seek in hiking shorts. Zip pockets are sometimes overlooked, yet they come in helpful while trekking up a steep mountain. You can store your phone, keys, and other valuables without fear of them falling out.
The Baleaf women's UPF 50+ quick-drying hiking shorts are among the best for various reasons. They are lightweight, robust, quick-drying, and particularly made for trekking. The four-way stretch fabric allows your skin to breathe and wicks away sweat.
They have a durable, water-resistant surface that keeps the interior dry, making them exceptionally moisture-wicking. They also include many zip pockets!
(3) UPF-Protected Breathable Pants
I wear trousers instead of shorts when I trek in the late afternoon around sundown. Because mosquitoes are most active this time of year, I wear long pants to keep my legs safe.
However, for hiking pants, a lightweight and breathable fabric is required. The polyester fabric of these Xtansuo women's lightweight hiking trousers is thin and breathable, with a four-way stretch. They're additionally quick-drying, so I can keep cool and avoid sweat stains.
(4) A lightweight middle layer, such as a jumper or hoodie
The THUNDERGROUND Lightweight Women's Hoodie is one of my favorite items since it is composed of unique thermal tech fabric that keeps you toasty despite being thin and lightweight.
This long-sleeved hooded pullover folds into a bag to save you space when traveling. It also features a clasp hook to connect it to your day pack, and you can use it as an extra layer if the weather cools down while you're away from camp.
(5) Strong Boots with a Good Underfoot Grip
Whether you're camping in the summer or winter, the JABASIC Women's Mid-Hiking Boots will keep your feet comfortable. They're waterproof synthetic leather with breathable mesh across the ankle, sides, and top of the foot. The thick and firm EVA sole provides comfort and protection.
What to Wear When Camping in the Summer -Men
(1) A Lightweight, Quick-Drying Top
Because it's lightweight, quick-drying, and breathable, a sleeveless, polyester exercise shirt is great for trekking. Choose a cool-dry fabric to remove perspiration from your skin quickly.
This rapid evaporation will keep you cool and dry on a hot trek. The lightweight UPF 50+ muscle tank top from MIER is composed of cool-dry polyester fabric. It's a standard fit, so there's plenty of freedom to move, and it won't stick to your skin, but it's also not too baggy.
The broad armholes and sleeveless design contribute even more to ventilation and freedom of movement. You may also use it as a foundation layer when trekking in other seasons since it regulates your body temperature in both directions.
As a result, it's a must-have piece of trekking gear all year. This MIER tank top also includes UPF 50+ sun protection, which shields you from UVA and UVB radiation.
(2) Breathable Shorts with Flexibility
Your hiking shorts should be comfortable, allow fluid movement, dry rapidly, and be breathable. In addition, look for UPF protection and light color tones to deflect the sun's harsh rays.
These men's quick-dry cargo shorts by Little Donkey Andy are composed of a high-performance fabric that is simultaneously lightweight and stretchy. They also have a water-resistant coating to keep you cool and dry on the path.
They also provide UPF 50+ protection and come in various light color tones. Another feature I appreciate about these shorts is that they have six pockets! There are two front cargo pockets, two hand zipper pockets, and two back zipper pockets.
So, if you're wondering what to wear on a long-distance trip, these shorts will provide plenty of storage room for snacks, fluids, and anything else you require to keep going.
(3) Stylish Pants with Zip-Off Legs
Choose convertible hiking trousers with zip-off legs if you need help deciding whether to wear shorts or pants on your summer trip. As a result, if you feel too hot while hiking, you may quickly change them to shorts.
A great example is the Wespornow men's convertible hiking pants. These pants are lightweight, breathable, and wear-resistant, thanks to their 2-in-1 construction. Furthermore, the trousers include a 4-way stretch and a gusseted crotch that allows for freedom of movement.
What Clothing to Wear during Winter Camping
Camping is among the best ways to reconnect with nature and meet new people. It allows you to experience the great outdoors, be exposed to the beauties of the sky and land, and enjoy a day in the woods.
Your camping attire can greatly influence your comfort and ability to enjoy the camping experience. If you need help deciding what to wear to camp, look at my suggestions below for potential outfit combinations.
I'll go through how to pick camping gear that will keep you warm, comfy, and bite-free, as well as discuss my favorite camping attire!
What to Wear for Winter Camping-Female
(1) A Waterproof Jacket
I fancy this CAMEL CROWN Women's Fleece Lined Softshell Jacket for cold weather camping. The insulated brushed fleece lining traps heat while permitting sweat, keeping you warm and comfortable. Meanwhile, the durable softshell exterior repels even the fiercest winds and rain. Adjustable drawcords on the hood and hem and elastic fastening cuffs provide additional weather protection.
(2) Hoodie
I like the THUNDERGROUND Lightweight Women's Hoodie because it is composed of unique thermal tech fabric that keeps you toasty despite being thin and lightweight.
In addition, this long-sleeved, hooded pullover also folds into a bag to save you space when traveling. It also features a clasp hook to connect it to your day bag, and you can use it as an added layer if the weather cools down while you're away from camp.
(3) Boots 
Whether you're camping in the summer or winter, the JABASIC Women's Mid-Hiking Boots will keep your feet comfortable. They're composed of water-resistant synthetic leather and have breathable mesh around the ankle, sides, and top of the foot.
What to Wear for Winter Camping-Male
(1) Jumper
The MEETWEE Lightweight Full Zip Thermal Hoodie makes an exception to the rule of hefty and bulky fleece coats. The fleece lining is thin and lightweight, making it ideal for camping in spring and fall and cool summer evenings.
Furthermore, its quick-dry fabric wicks away sweat if you feel too hot. Another wonderful feature is the reflective stripes on the back and next to the zip. These strips will increase visibility and keep you safe if you're out in low-light settings.
(2) Jacket
The Little Donkey Andy Men's Waterproof Rain Jacket is lightweight and breathable, making it excellent for summer and the transitional seasons of Spring and Autumn. The shell fabric on the exterior of this jacket is waterproof and windproof.
A tiny mesh covering on the inside will allow your skin to breathe and drain away any perspiration. This men's camping jacket has a chin guard, movable hook-and-loop cuffs, zippable pockets, and a stowable hood. It also folds into a little bag you can carry with you at all times.
(3) Boots
These Wantdo Men's Waterproof Hiking Boots are light, breathable, and offer excellent grip in wet and dry conditions. Their 6mm thick Vibram outsole will keep you from slipping on snow, ice, dirt, or damp grass. Furthermore, the thick EVA midsole provides arch support and comfort, and the mid-rise shape protects your ankles.
These camping boots include unique seam-sealing technology that keeps rain out of your feet and enables you to walk through snow without becoming chilly or damp. As a result, they are ideal for winter camping as well as other seasons. They also include a rubber top cap for protection and a closed-cell foam tongue to keep strong gusts out.
What do Kids Wear while Camping?
Nothing beats sleeping beneath the stars, and we are confident that your elder explorers will enjoy a camping trip! Make sure you carry the appropriate attire to make things go more smoothly. Because bonfire evenings may be cool, planning ahead of time is essential.
A waterproof EcoLight jacket, intended to keep happy campers dry and toasty no matter the weather, is always at the top of my camping essentials list. They are waterproof and protective and pack into their own pocket, taking up minimal room in your backpack.
Another important item on my list is a pair of waterproof trousers or dungarees, which are ideal for playing near water or having fun in puddles and come in handy in case of unexpected rain. Goodbye, damp bottoms: our waterproof trousers can resist extreme outdoor activities, including splashing and sitting on wet ground.
Young explorers don't appreciate being limited by the weather while out in nature, which is why our gear is created with their freedom and wildness in mind.
Finally, please look at our cozy and toasty socks, which are ready to wear when the weather becomes cold. They will keep your children's feet toasty at night and cozy on lengthy woods treks. A pair of fun and dependable wellies should also be on your shopping list.
They come in exciting and vibrant patterns and keep the water out even in rough weather conditions, making them ideal for wading through dirt and splashing in puddles.
What Shoes to Wear Camping?
These shoes might be flip-flops, home slippers, or worn-out sneakers. These shoes you wear at the end of the day to keep your feet warm.
You want to put on these shoes following a long day of trekking or swimming in cold water. Camp shoes must be your most comfy pair. They should also be old enough that you don't mind if you accidentally drop sticky food on them or if they smell like a bonfire when you arrive home.
With so many shoes to choose from, deciding which to take camping might be challenging.
Finally,
Summer camping attire for me often consists of light shorts, a t-shirt, and tennis shoes. I'm ready to go once I add a few sun protection accouterments if I'm camping in summer.
If I'm camping in a hot region, I may forego my natural cloth sun cover in favor of a cooler long-sleeve shirt made of a synthetic blend.
This has given you some ideas for packing for your next camping trip. With little practice, you'll be able to determine which wardrobe combinations you like when camping. Remember to seek the important components of comfort and appropriateness in your camping equipment.
Frequently Asked Questions (FAQs)
Q1. Are jeans good for hiking?
A. Hiking with no jeans is wonderful. However, if you plan on trekking in the rain, freezing weather, or extreme heat, you should invest in a sturdy pair of hiking trousers. Jeans are poor in moisture-wicking, breathability, comfort, and abrasion resistance, making them unsuitable for hiking.
Q. Are leggings good for hiking?
A. Leggings are more breathable than hiking pants, and avoid chafing everywhere. They also wick perspiration well and don't hinder movement when scrambling up things. Wear pants if you require durability and pockets.
Q. Should walking boots be tight or loose?
A. You should be alright if their boots are snug but not painfully so—most boots will expand sufficiently to achieve a comfortable fit. Your heel should be fastened inside the boot and should not move up or down as you walk.