Camping is one of my favorite summertime activities. This is the one activity you can do with loved ones to break away from the chaos of everyday life and go back to the fundamentals.
I had to borrow equipment from my friends when I started as a beginner. Still, over the past several years, I've acquired more and more items that have made Camping simpler, cozier, and more enjoyable.
I've brought about a list of things to pack when camping that I can't live without when I switch off my busy, electronically charged existence and slow down to days filled with food, trekking, kayaking, reading, and roaring fires.
Also Read: Why you should go for Car Camping
Don't Forget Things to Pack When Going Camping Solo (Men/Women)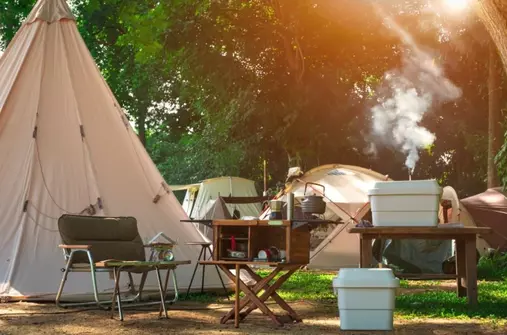 (1) Traveling tent
The first step in any successful outdoor adventure has the appropriate shelter, and solo camping trips aren't any different. Most people bring a tent when camping alone to be dry and comfortable at night. But although you would presume that a one-person tent is ideal for solo Camping, most people feel that a two-person tent is more suitable.
Also Read: How to travel with a Dog?
(2) Portable chair
You should feel at ease when hanging out at camp if you go on a solo camping trip. So it makes sense to have a good hiking chair. A portable chair can be a comfortable spot to relax in the evenings for lone campers who frequently have a lot of free time to themselves when at camp. After a strenuous day of trekking on your solo adventure, you may kick back, unwind, and enjoy reading a novel or writing in your diary.
(3) Survival Equipment
Anyone venturing alone into the woods should be ready for everything that may come their way. As a result, when hiking alone in the mountains, it's crucial to always have survival equipment with you. Although we hope you never need it, having the proper survival equipment on hand may be helpful if you get into trouble hiking in a remote area like Rocky Mountain National Park. Alternatively, the survival supplies you bring can aid you if you come across someone else in need while hiking.
(4) Blades and multitools
It would help if you only ventured into the woods with knives, multitools, or your survival supplies. Some of the most useful instruments on the earth are knives and multitools. Having the correct knife or multitool in your bag may be the difference between a nice camping trip and an excursion you'd rather forget, whether you have to replace a damaged tent pole or build some kindling for your fire.
(5) Camping food
Cooking a three-course supper after a strenuous day of trekking might be difficult if you're camping alone. Pre-packaged camping meals may be just what you need in these circumstances. You may drive up to your campground, set up your tent, put on your stove, and boil water to rehydrate your food with the proper camping meals. Then, with little effort, you may take your utensils and start eating a simple meal for one.
Remember these Things to pack when Your Kids Out When Going Camping
(1) Lights
The wonderful thing about getting out of the city and into nature is that there won't be any light pollution, giving you a breathtaking view of all the millions of beautiful stars in the night sky. But if you're from a major city, your kids might not be accustomed to how black it might become at night. Make sure you include various illumination devices, including lanterns, headlamps, and flashlights. Practically speaking, they'll help keep the fun going even beyond sunset and make it much simpler to locate the restroom in the midst of the night without stumbling over oneself. Still, they'll also provide some solace to youngsters who don't like complete darkness.
(2) Portable toilet
It may be helpful to have a portable toilet on hand as a backup restroom choice if your children are small, even potty trained. This is especially true at night. So that your kids won't have to repeatedly wake you up to make nocturnal trips to the camping restrooms, set it up just outside your tent. Additionally, people who are embarrassed to use the restroom in public areas will feel more at ease.
(3) Additional Clothing
Children seem to always find a way to get their clothing filthy or wet, regardless of where they are. A campsite's proximity to all the alluring rocks, ponds, and paths increase the likelihood that everyone will come up coated in mud. This is undoubtedly a fun aspect of Camping. Still, it's also a good idea to pack some dry shirts, jeans, socks, and undergarments in case the dirt turns into mud or a walk by the river results in an unplanned swim. It's important to keep in mind that temperatures can drop significantly when the sun sets, even in the peak of summer. Nobody wishes to call it a night and crawl under the covers just because they're cold.
(4) Packaged meals
Children will undoubtedly use all of their energy playings and running about. They frequently need to eat snacks to maintain their energy levels. Consequently, it is a good idea to bring food. The ideal choice in this situation is something they can easily chew on or snack on.
(5) Fun things
Pack some entertaining items like cards or board games to add to the excitement of your child's camping excursion. However, watch out that the board games only take up a little room and are manageable. Outdoor activities like badminton, frisbee, and other games can be added to make the vacation more enjoyable.
Things to Pack When Camping with Your Family
(1) Tent
This is an obvious choice. Pay attention to the obvious:
Bring a tent unless you plan to sleep outside beneath the stars or have a camper or RV.
Open your tent to let the air in if you last tented last year.
Verify that it doesn't smell musty or moldy, and make sure you have all of the rods, pegs, and the fly or tarp which goes over the top to help keep out the rain.
When purchasing a tent, verify the specifications and customer reviews because sometimes they need to fit more people than they claim.
(2) Comfortable Camp Chairs
When you're having a good time while preparing s'mores and drinking over the campfire. A cozy camping chair is required. Your seats must be able to fold up, but occasionally, this implies that they could be more comfortable.
(3) Sleeping bag with a pillow
Take a foldable sleeping bag for each camper, even if the weather appears warm, for your camping excursion. Temperature reductions of 20° or more are common at night in wooded or hilly places, particularly when the summer sky is clear. Without a cushion, you can have trouble falling asleep. When camping for the first time, kids also like having a cushion for the long car journey and as a small reminder of home. Consider acquiring a separate pair of pillows for Camping since your pillows could continue to smell like a bonfire for a few days after your trip.
(4) Insect repellent
Deer flies, black flies, mosquitoes, and other venomous insects should all be avoided. Remember to use the anti-itch cream after being bitten by an insect or coming into contact with poison ivy. Just bear in mind that many insect repellents include high concentrations of the chemical DEET, which might not be suitable for young children. Consult the pediatrician about the best items to use for your child.
(5) Medical Kit
Prepare yourself with a first-aid kit in case you are hurt while hiking, riding, fishing, or engaging in other outdoor activities on your camping vacation. It would help if you cleaned wounds and scratches with the clean water you brought.
Things to Pack when Going Camping on a Tent
(1) Torch with lamp
Even if you have a courageous heart, going around in the dark is not a good idea. Also, sleeping in a fully dark tent is not a good idea. Bring a lamp, lantern, torch, or anything comparable when you go Camping. One of the essentials for Camping is a portable, battery-operated light source. It will be helpful when you need to locate something in your tent, make your way around camp, or react to nature's call.
(2) Water containers
It's crucial to stay hydrated, especially if you're walking on a rocky road in the sun. There will be pure water streams or ponds, but only in some places. Water bottles are fundamental camping necessities. Bring them along so you may fill them up anytime you come across pure water.
(3) Medical kit
It is common to sustain a cut or sprain when camping. However, you should be ready for all of these scenarios. Put bandages, creams, and other supplies in your first aid box. Everyone should always be prepared, even if they don't use the first aid kit. Sanitizers and face masks are the newest additions to the list of camping essentials. Sanitizers should be necessary, not just in the event of a pandemic but also in everyday life.
(4) Firestarter
Bonfires are a necessary component of Camping. You can find the necessary wood close to your camp, but you will also need to bring a firestarter, such as a lighter or a matchbox. Make sure you store them securely to avoid getting into an accident. Make sure they stay dry as well. A damp matchbox is equivalent to having none at all.
(5) Anti-mosquito spray
Although it might not appear on the list of essential camping gear, this is highly significant. Mosquito bites are uncomfortable and may even cause you to get certain illnesses. In addition to mosquitoes, other pests can be bothersome, especially at night when you're trying to sleep. Natural insect sprays might come to your rescue in these situations.
Things to Pack for Car Camping
(1) Organizer for trunks
It can be challenging to keep your car, and yourself organized when camping. Helpful is a trunk organizer. It includes big, sturdy compartments and bungee cords that clip into your trunk. Perfect for arranging your clothing, food, boots, and other belongings.
(2) Shirts that wick moisture
Using moisture-wicking or dry-fit clothes will help you stay warm during cold weather and cool during hot weather. The secret to a comfy camping trip is layering your clothing (and staying dry!).
(3) Jacket and pants with insulation
The nights might be chilly while you're camping. Carry some warm apparel with insulation to keep your body heat inside your tent or around the fire.
(4) Portable stove
A camping stove makes it quite easy to prepare meals at your campground. Dinner is ready when you turn it on and place a pan.
(5) Bottle of Water
Whenever camping, it's crucial to pack a reusable water bottle. If more water is required, you can carry extra gallons or replenish them at the campground water spigots.
Finally
So that's what you must bring for a camping vacation that lasts a week. To sum up, you'll need some fun extras, toiletries, a first-aid kit, dishes, glasses, cutlery, a camp stove with fuel, sleeping bags, cushions, torches or lamps, food and water, a robust tent, sturdy clothing. You can survive in any camping setting if you have these supplies in your bag. Keep safety in mind, have fun, and enjoy discovering the natural environment and world while traveling.
Frequently Asked Questions (FAQs)
Q1. What do you need for 3 days of Camping?
A. Take food for campfire dinners, on-the-go foods, and snacks for a three-day camping vacation.
Q2. What do I need for 1-year-old Camping?
A. Place a blanket, some games or books, and their water bottle inside.
Q3. How can I make my camping family more comfortable?
A. You would need:
1. sip on tea or another hot beverage
2. Go on a run.
3. Eat a little meal.
4. Put dry garments inside your sleeping bag.
5. Put on a knit cap.
6. Bringing a warm water bottle to bed