The region of Lakshadweep Island is home to some of the most beautiful and serene beaches in the entire globe. The corals in Lakshadweep are the main attractions that have increased my appreciation for marine life.
When organising a trip to Lakshadweep, I advised people to ensure they don't compromise on the fantastic experience.
Must Read: Best Places to visit in Odisha
The islands each provide a distinctive mix of tourist attractions despite being equally magical and gorgeous. I truly enjoyed the allure of relaxation, while others encouraged me for dives and do water activities.
How to Reach Lakshadweep?
From Kochi, aircraft or ships can be taken to Lakshadweep Island. The gateway to Lakshadweep is Kochi for all tourist-related purposes.
Must Read: Best Places to Visit in West Bengal
The islands of Agatti and Bangaram are accessible by air from Kochi. From Kochi, flights are operated by Indian Airlines.
What is the cheapest way to reach Lakshadweep?
Only air and water may be used to travel to Lakshadweep. It is located in the Arabian Sea, about 400 kilometres from India's western coast. Between Lakshadweep and Cochin, there are a total of seven-passenger ships. It only has a connection to Kochi Airport from its airport at Aggati.
How to reach Lakshadweep from Delhi?
The transportation between New Delhi and Agatti Island is not immediate.
● Train to Ernakulam Jn, followed by a flight to Agatti Airport, the fastest and least expensive route from New Delhi to Agatti Island.
● The quickest route from New Delhi to Agatti Island takes a flight to Kempegowda International Airport, a flight to Cochin International Airport, and a flight to Agatti Airport.
● This route takes 14 hours and 25 minutes. It takes 14 hours and 35 minutes to fly from New Delhi to Cochin International Airport and then take a flight to Agatti Airport to get to Agatti Island.
How can I go to Lakshadweep from Goa?
There isn't a direct route that connects Goa to Lakshadweep.
● To get to Kavaratti; however, you can take a taxi to Karmali, a train to Ernakulam Jn, a taxi to Willingdon Island Jetty, and a ferry from there.
● As an alternative, it takes roughly 43h 32m to drive from Chicalim to Kavaratti through Goa, Bangalore, Ernakulam, and Willingdon Island Jetty.
How can I go to Lakshadweep from Bangalore?
● Flights to Cochin International Airport and flights to Agatti Airport take 3 hours and 55 minutes to go from Bangalore to Agatti Island.
● It takes 3h 55m to fly from Bangalore to Cochin International Airport and then another 3h 55m to fly from Cochin International Airport to Agatti Airport.
How can I go to Lakshadweep from Mumbai?
Lakshadweep is not directly accessible from Mumbai.
● On the other hand, you can fly to Kannur and then take the voyage to Lakshadweep after taking the railway to Santcruz, the travel to New Agripada, the bus to National Airport Junction, and the walk to Mumbai airport.
● As an alternative, you can fly to Mangalore and then take the voyage to Lakshadweep after taking the railway to Santcruz, the walk to New Agripada, the bus to National Airport Junction, and the walk to Mumbai airport.
Is airport available in Lakshadweep?
Agatti Aerodrome (AGX), the sole airfield in the Lakshadweep Islands, is located on Agatti Island. Only two airlines, Indian Airlines and Kingfisher Airlines offer service to Agatti Aerodrome.
There are flights between Agatti Island and Cochin offered by both airlines. Agatti Island to Bangalore flights is provided by Kingfisher Airlines. Agatti Island is a little island only 7 kilometres long, making it simple to travel there on foot or by bicycle.
Best Time to Visit Lakshadweep
With a favourable temperature, the Lakshadweep archipelago welcomes visitors all year long.
However, the greatest season to visit Lakshadweep in terms of attractions and ease of transit is October to March.
At this time, Lakshadweep's winter is experienced there, and the weather is ideal. A good time to travel to this island group is during the summer, which lasts from March through May.
Avoid travelling during the monsoon because reaching the most famous islands is difficult by boat from June to August.
7 Best Island in Lakshadweep for Honeymoon
(1) Kadmat Island
On Kadmat island, there are also a number of lagoons and coral reefs to be witnessed. I participated in watersports on the island; these games somehow draw inspiration from a couple themes. Sunbathing, watching the sunset, having a beach picnic, and finding turtles are additional activities to enjoy with someone special.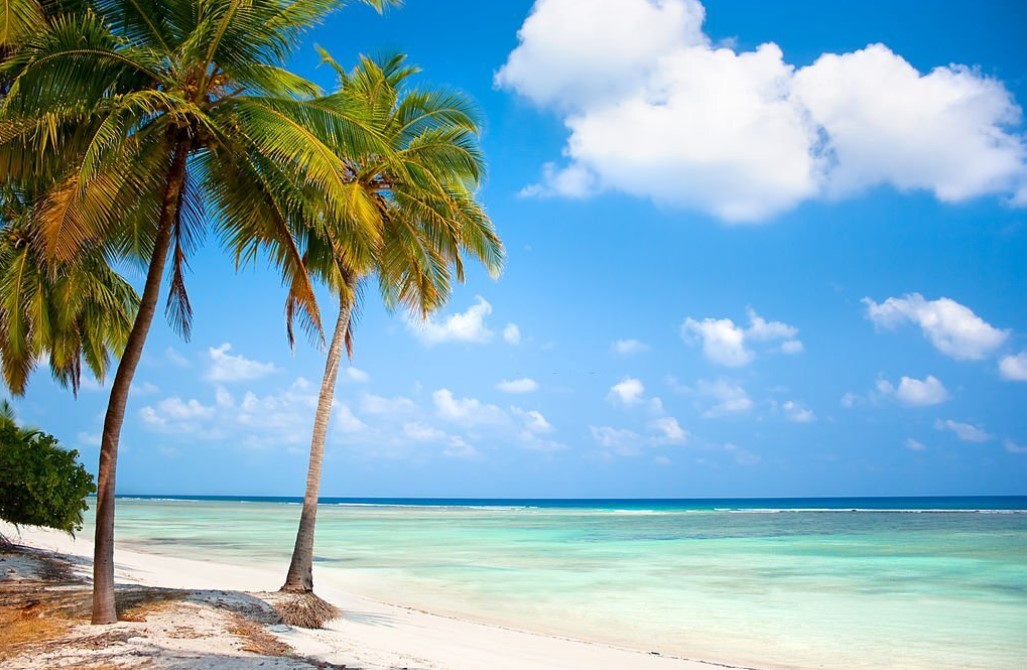 How do I get to Kadmat?
Kadmat's closest airport is in Agatti. After that, a 77-kilometre drive ahead.
To reserve honeymoon packages, a car will be provided; if not, call a taxi.
The best hotels in Kadmat are Kasims Beach Resort and Kadmat Island Beach Resort.
(2) Bangaram Island
Bangaram Island is renowned for its tranquil setting. The sand appears to be extremely pure, and the water is a greenish-blue colour.
The bulk of them offers couples the honeymoon suite. Swimming, taking a stroll after dusk, and playing in the sand are additional activities I explored there.
The lagoons are the island's main draw for honeymooning couples.
How can I get to Bangaram?
Agatti airport, which is two hours from Bangaram, is the closest. Booking a taxi or renting a self-drive car are two options.
The White Pearl Beach Hotel and Bangaram Island Resort are the best places to stay in Bangaram.
(3) Minicoy Island
This location is perfect if any couple wants to have a vibe like in Maldives' atmosphere.
Several athletic activities are going on along the beach. Several water activities are available that are great for families with kids and couples. There are also places for picnics, sunsets, and sunrises.
The couples can ascend a lighthouse on the island to take in the stunning view of the Minicoy.
How do I go to Minicoy?
Trivandrum has the closest airport to Minicoy. The distance is around 398 kilometres. Buses, self-driving cars, or taxi services are available.
Aboob's Resort and Minicoy Beach Resort are the best hotels in Minicoy.
(4) Kavaratti Island
Kavaratti Island is awash in affection.
This island can be approached in the most romantic manner, which will serve as proof. Access to the island from a large ship. Whether you use this service or not is entirely up to the couple's choice.
Additionally, there are choices for regular boats. To enjoy the island and ensure solitude, you will have your own island.
Couples on their honeymoon are known to frequent the beach's lagoons.
White Pearl Beach Hotel and Kasims Beach Villa are two places to stay in Kavaratti.
(5) Kalpeni Island
Another stunning island in the Lakshadweep is Kalpeni. Approximately 217 miles separate from Kochi, Kerala.
At the beach, one can go snorkelling, kayaking, and tanning. Because there are coral reefs all surrounding the island, the water is shallow and quiet.
Couples can view the island's splendour from the lighthouse on the island.
How can I get to Kalpeni?
The island is five hours by boat from Agatti airport, the closest airport.
Best Hotels in Kalpeni: Coral Paradise Beach Resort and Kalpenidak Bungalow
(6) Agatii Island
Lakshadweep's Agatti Island honeymoon
Agatti is a highly popular destination in Lakshadweep for couples.
The beach has crystal-clear water where you and your significant other can go boating. Additionally, you and your partner can stroll hand in hand along the shore. Lagoons can be found all across the island.
October through February are the ideal times to visit the Agatti site.
Where Can I Find Agatti?
At the Agatti Aerodrome airport, you can fly to the location. You may also fly from Cochin International Airport to Agatti International Airport.
(7) Andrott Island
The little island in Lakshadweep is Andrott Island, also known as Androth Island. The establishment is open around-the-clock.
Couples on their honeymoon can spend the night here because several lodging options are available. Any time of the year is fine to visit. The best time to visit the location is in the winter.
The Coral Beach Resort and Hotel Mahay Palace are the best places to stay in Andrott.
Things to do in Lakshadweep
(1) Canoeing
Among the numerous adventure water activities available in Lakshadweep, canoeing is a breathtaking experience.
Minicoy Island is among the top spots in Lakshadweep for canoeing.
Because of the shallow waters in the area around Minicoy, canoeing is a great activity that even complete beginners can enjoy.
Minicoy Island, location
(2) Kite surfing
Lakshadweep offers the opportunity to partake in the thrilling water sports adventure of kite surfing.
Popular locations for the adventure of kite surfing include Kadmat Island. On Kadmat Island, you can practise surfing and then use your kite to get farther.
Once you have it in your possession, practise sufficiently so the adventure will be much more enjoyable.
On the island, some reputable teachers will help you feel at ease and home while participating in this sport.
(3) Scuba diving
The aquatic life of Kalpeni Island is renowned for being abundant and colourful.
Additionally, there are a wide variety of exotic fish species in the seas. There are more than two thousand different species, according to some specialists! Amazing turtles can also be found in these waters.
Some seasoned driving instructors there put me at ease and gave me instruction prior to the real dive, which made my entire experience wonderful.
Location: Lakshadweep's Kalpeni Island
(4) Snorkeling
This amazing location has calm waters, making it one of the best snorkelling locations in all of Lakshadeep.
Exotic marine life and colourful reefs abound along the shallow shorelines.
Location: Lakshadweep's Agatti Islands
(5) Nightlife at Lakshadweep
Some of the Lakshadweep islands have vibrant, energetic nightlife. Restaurants and eateries are brimming with delicious seafood specific to this location.
Islands provide ambrosial feelings at night with very nice weather, picturesque landscapes, and mesmerising music. If you enjoy having a good time, go to Bangaram Island.
Agatti Island is known for its breathtaking nightlife and heavenly natural beauty. Another site with vibrant nightlife is Minicoy Island.
Location: Minicoy Island, Agatti, and Bangara
Not all islands are accessible to tourists, but the other ones can be captivating like any other destination. It is a stunningly exquisite island ideal for an adventurous beach vacation.
It was a remarkable and unforgettable experience to cherish forever.
Frequently Asked Questions
Is Lakshadweep good for a honeymoon?
Nowadays, going on a honeymoon in Lakshadweep is all the vogue. The glistening ocean, glistening sand, stunning beaches, opulent resorts, adventure activities, and warm locations make for an incredible and unforgettable honeymoon.
Is Lakshadweep better than Maldives?
For tourists, the Lakshadweep Islands and the Maldives both provide stunning locations inside their borders. The Maldives boasts 300 islands with private beaches and resorts for you to pass the time, compared to Lakshadweep's 36 total islands.
Which month is best for Lakshadweep?
From mid-October to mid-May is the ideal season to travel to Lakshadweep. It frequently rains from mid-May until September. Even though Lakshadweep has year-round resorts, getting there by ship during the monsoon is challenging.
Which is cheaper, Andaman or Lakshadweep?
If you select standard 3-star accommodations, you may get a 5-night, 6-day package with sightseeing for between $30k and $40k per person. There will be a few extra expenses for food and aquatic activities, but that should be it.
Suppose you opt to travel to Lakshadweep by sea. In that case, the complete package—including transportation, lodging, and meals—will cost you, on average, $30,000.
How much does a Lakshadweep trip cost?
Ferries from Kochi to Lakshadweep cost 37,500 and take 18 hours, making them the least expensive option.
How many days are enough for Lakshadweep?
To explore Lakshadweep and see all the main attractions, allow 5–6 days. All the major sites, including Agatti Island, Kadmat Island, Kavaratti, and many others, are easily accessible.
How can I get a Lakshadweep permit?
Any INDIAN traveller can visit Lakshadweep with just a valid photo identification document, like an Adhar card, voter identification, a passport, a driving licence, etc. A passport is NOT required. However, a passport can easily be used as identification.
Which country is nearest to Lakshadweep?
Kerala's Kochi is a coastal city on the emerald Arabian Sea. From Kochi, there are frequent flights to the islands. India's neighbouring nation, the Maldives, is located south of the Lakshadweep islands.