The Net Worth Of Vivek Bindra Who doesn't know Vivek Bindra, especially if you live in India?
Vivek Bindra is not only a renowned Indian Motivational speaker but also a leadership consultant, entrepreneur, and business coach. He also has 8 Guinness World Records to his name. The founder and CEO of Bada Business have worked hard to make his dream life come true.
He started working at a young age. He was just sixteen when he started earning. His father died when he was a year and a half old, and thus the responsibilities fell on his shoulders, which made him so strong and helped him to get ahead in his career.
Also read: Shiv Khera Biography
If you are also intrigued by reading all these achievements of him and are dying to know the net worth of Vivek Bindra, then calm yourself down because, in this article, we'll not just discuss the net worth of Vivek Bindra. We'll also go through some of his life achievements and struggles. So, what are you waiting for? Sit tight and start reading.
Table of Contents
Vivek Bindra Wiki/bio
Vivek Bindra's hard work is paying off. Although his childhood wasn't very pleasant, he has successfully created a beautiful life for himself and his family otherwise. Let's peek into his personal life and get to know more about him and the environment he grew up in.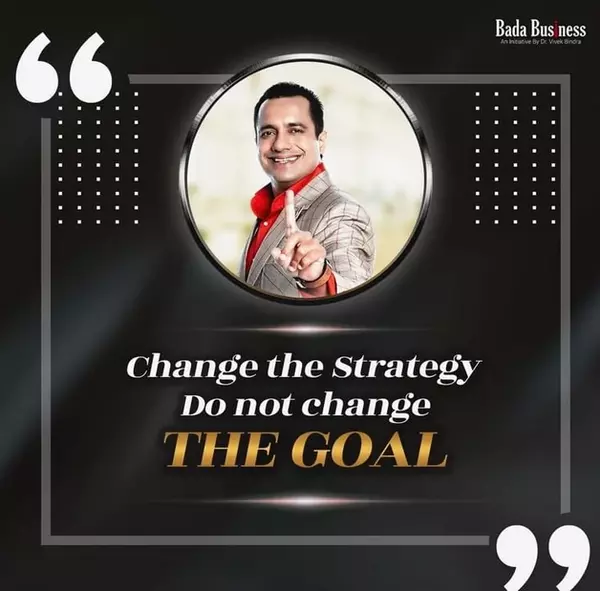 Personal Life
Born in Lucknow on April 5, 1982. His life was full of struggles, his father died when he was young, and his mother married another man. So, he had to live with his stepfather, whom he didn't like much. After her mother's second marriage, Vivek Bindra started living with his grandfather and uncle.
Also read: Life History of Acharya Prashant
Vivek Bindra has already taken his marriage vows with Geeta Sabarwal, and the couple has a son named Madhav Sabarwal. The details of his family aren't widely known.
Vivek Bindra Education
He completed his schooling at St. Xavier School in Delhi in 2001. He was a bright kid and always got good grades. After completing his schooling, he went to Amity Business College, where he was admitted to economics and business management courses as he was passionate about economics and business. He also owns a Doctorate of Philosophy (PhD) from OIUM University of Colombo.
Career Beginnings
After his father's death, he started living with his grandfather and uncle but didn't have enough money to feed himself. So, he started to teach children at the young age of 16 to fulfil his necessities. He also sold books sometimes to earn money. He started his career as a motivational speaker in 2006.
Also read: Biography of Sandeep Maheshwari
Entrepreneurial Journey
After quitting his corporate job in a multinational company where he used to work as a director, he started his career in the motivational speaker and corporate trainer journey. He founded Global Academy for Consulting and Training. Soon, his efforts were recognized due to his high-energy speeches focused on entrepreneurship and personal development. After success in the offline market, he took another step, digitized his business, and started publishing his speeches on Social Media, including YouTube.
In 2016, he started the famous Bada Business Pvt. Ltd. It's an ed-tech company that provides courses related to start-ups and personal development. Bada Business is a well-established organization making Vivk Bindra one of India's top motivational speakers and business coaches. He started one-on-one coaching programs for entrepreneurs and business owners in 2018. Now he is focused on growing his business to an even higher position and working tirelessly. In 2020, he launched the Bada business Application to provide easy access to its customer.
Contributions
Awards
Vivek Bindra has received many awards through the years for his excellent speeches and how he motivates people to succeed. Some of them are: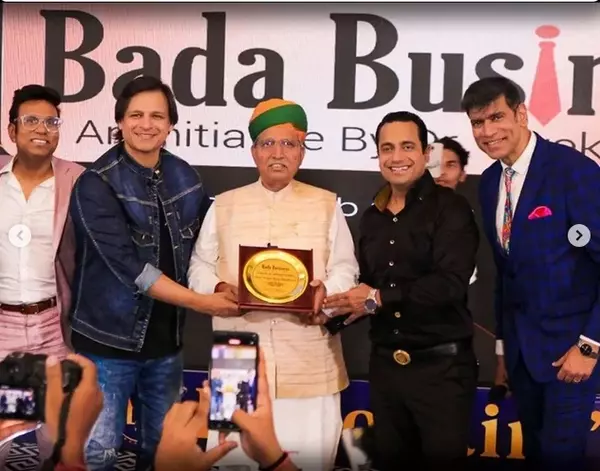 "Best Leadership Trainer in Asia" award from Marshall Goldsmith, a renowned American leadership coach, in 2017.
"Best Corporate Trainer in India" award from the World HRD Congress in 2018.
"Think Tank of Corporate Asia" award from the World Leadership Federation in 2019.
"Best Motivational Speaker in India" award from the International Association of Lions Club in 2019.
"Best Entrepreneur Coach in India" award from the Entrepreneur India Awards in 2019.
"Most Inspirational Corporate Trainer in India" award from the National Awards for Excellence in Corporate Leadership & CSR in 2020.
"Best Motivational Speaker in Asia" award from the International Iconic Awards in 2021.
Net Worth of Vivek Bindra
Just like any other millionaire Vivek Bindra also has multiple sources of income. These sources include income from his own company, his youtube channel, partnership programs, online courses, and sponsorships. His company has clients from over 25 countries all over the world. Considering all these sources of income net worth of Vivek Bindra is estimated to be $7 million, which is 58 crore in Indian Rupee. The net worth of Vivek Bindra in 2021 was $6 Million, which is 50 crores INR. His annual income is around 10 crore INR which is $1.2 million, and in a month, around 46 lakh Rupees $55 thousand.
| | |
| --- | --- |
| Year | Net Worth of Vivek Bindra |
| 2023 | $7 Million |
| 2022 | $6.5 Million |
| 2021 | $6 Million |
| 2020 | $4.3 Million |
| 2019 | $4 Million |
Vivek Bindra's Future Vision
Since he runs his own company, therefore growing his company and achieving new heights in the entrepreneurial world is a part of his future vision. He also aims to educate more people about entrepreneurship and personal growth, as he believes these are the keys to boosting economic growth and vanishing unemployment.
To achieve his vision, he plans to launch new online courses and training programs focusing on different aspects of entrepreneurship, such as marketing, sales, research, and many more. He also intends to create a global community of entrepreneurs who can connect, collaborate, support each other, and share their experiences. Overall, he is focusing on expanding his business and promoting business education.
Bindra Books
Several books on diverse subjects of business, leadership, and personal development have been authored by Vivek Bindra. His widely read books include
Everything About Entrepreneurship: This book offers helpful information and direction for ambitious business owners who wish to launch and expand their businesses. It covers various entrepreneurial topics, including concept generation, company strategy, marketing, sales, and leadership.
The Greatness Guide: This book provides tips and methods for personal and professional development. It offers helpful advice on how to face challenges head-on, develop resilience, and succeed in life and work.
The Art of Selling-The book talks about the art of selling and offers useful methods and approaches for promoting goods and services. It covers various selling topics, such as establishing connections, determining customers' wants, and closing deals.
The book Secrets of Leadership offers advice and tactics for efficient leadership. It covers various leadership topics, such as delegation, team building, motivation, and communication.
Network Marketing Mein Safalta Kaise Payein ( How to be Successful in Network Marketing) – The book focuses on network marketing and offers helpful advice and tactics for achieving success in this industry. It covers various topics related to network marketing, such as goal-setting, team-building, and product knowledge.
These are only a few of the books written by Vivek Bindra. He has published numerous additional books, many translated into different languages. Entrepreneurs, corporate executives, and experts from various professions read and value his writings worldwide.
Vivek Bindra Quotes
Here are some inspiring quotes from Vivek Bindra: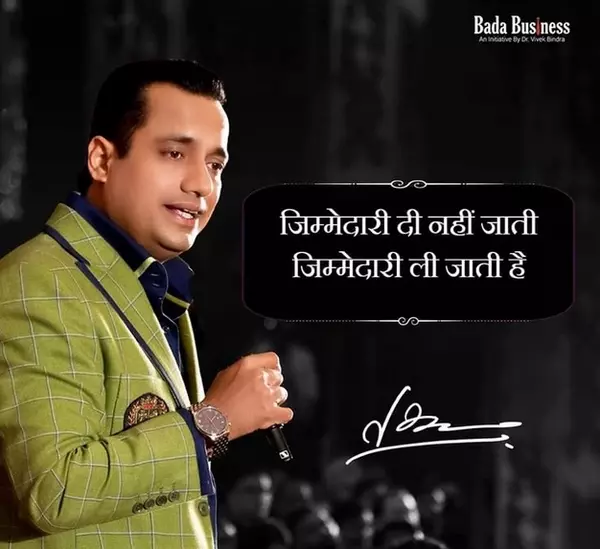 "Don't be a prisoner of your past, be a pioneer of your future."
"Success is not final, failure is not fatal: It is the courage to continue that counts."
"Success is not about being the best, it's about always getting better."
"A successful person is not someone who never fails, but someone who never gives up."
"If you want to be successful, you have to be willing to step out of your comfort zone."
"The only limit to our realization of tomorrow will be our doubts of today."
"You are the architect of your own destiny."
"Success is not a destination, it's a journey. It's not something you achieve, it's something you continually work towards."
"Don't wait for opportunities, create them."
"Believe in yourself and all that you are. Know that there is something inside you that is greater than any obstacle."
What is the 8 Guinness World Record of Vivek Bindra?
Vivek Bindra has made a lot of Guinness World records, especially in the lockdown phase. Let's take a look at these records:
| | |
| --- | --- |
| Title | Date |
| World's largest online business lesson | April 24, 2020 |
| World's largest online sales lesson | May 31, 2020 |
| World's largest online event on leadership lessons | June 20, 2021 |
| World's largest online lesson on strategy management | June 27, 2020 |
| World's largest online event on 'How to Start up' | August 15, 2020 |
| World's largest online lesson on retail management | September 27, 2020 |
| World's largest online event on Peak Productivity | August 15, 2021 |
Conclusion
Rome was built a day ago. Like net worth of Vivek Bindra is $7 million, it took time and effort to accomplish it. To make this all happen, he has worked extremely hard. And even after establishing his own company, publishing so many books, and giving so many speeches, he is still going strong, which is the outcome of his perseverance and hard effort.
If you want to achieve something in life, you must become consistent and daring, and if you feel unmotivated at some point in life, listen to Vivek Bindra's speeches.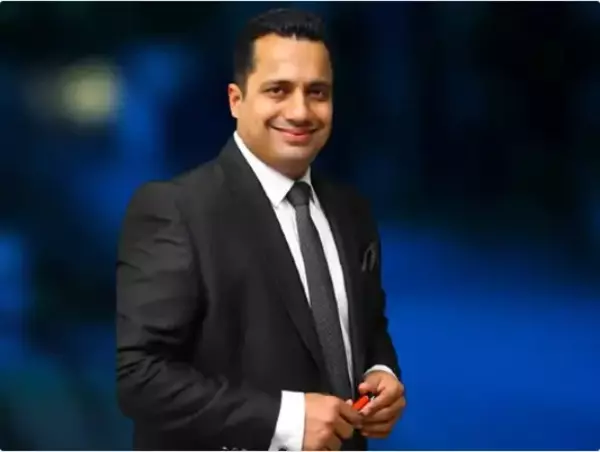 Moreover, Vivek Bindra has authored many books on leadership and entrepreneurship, such as "Everything About Entrepreneurship" and "10 Laws of Extraordinary Success." He is well-known on social media sites like YouTube, where he frequently posts motivational speeches and instructional videos, and is regarded as one of India's best business trainers and motivational speakers. You'll surely feel motivated again.
If you like or find this article valuable, please share with your friends and family. Or if you have any other queries, please ask in the comment box.
Frequently Asked Questions
Q1: What is the income of Dr Vivek Bindra?
Ans: Vivek Bindra's monthly income is nearly 46 lakhs, and he earns over 10 crores INR yearly. The net worth of Vivek Bindra is 7 million as of 2023.
Q2: What is the qualification of Dr Vivek Bindra?
Ans: Vivek Bindra has a Degree in economics and business management. He has done Ph.D.from OIUM University of Colombo.
Q3: Is Bada Business an MLM?
Ans: As Vivek Bindra says, Bada Business is not an MLM but an IBC.
Q4: What is the turnover of Bada Business?
Ans: The annual turnover of the company Bada Business is 60 crore.